Photography Workshops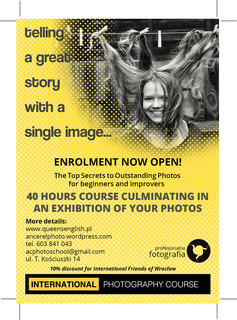 PHOTOGRAPHY WORKSHOPS – COMPREHENSIVE INTRODUCTION TO THE CRAFT OF PHOTOGRAPHY.
NEW COURSES STARTING IN MARCH 2015
The International Photography Course in English: Principles, practice and techniques.
This 39-hour Photography Course is aimed at beginners and improvers who own a digital camera and want to discover some of its amazing potential. Participants will learn how to operate their cameras in manual mode, make correct exposures and understand the basics like aperture, shutter speed and ISO.
During the photography course you will learn and practice various photography techniques:panning, freezing the subject, motion blur, zoom burst, light painting etc
Our photography course not only explains the basic science and nature of photography, but also introduces lots of hands-on practice sessions during which you will learn how to control and combine all different camera functions creatively.
Contact: Ania Cerelczak phone: 603 841 043
email: acphotoschool@gmail.com
more info about photo courses on:
https://ancerelphoto.wordpress.com/photography-courses/
http://www.queensenglish.pl/en/photography-workshops-new-courses-starting-in-march-2015/
http://www.queensenglish.pl/en/photography-in-english/
Wrocław, Kościuszki 14 at Queens School of English