Duty Free Comedy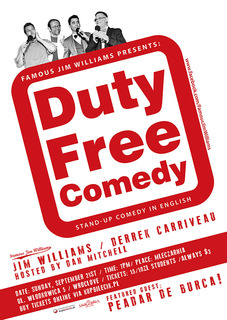 Are you a fan of live, high-quality stand-up comedy in English but hate getting harassed at the border every time you try to smuggle a comedian from another country into Poland in your suitcase? Well, worry no more my friend, because Famous Jim Williams has the answer!
Sunday, September 21st, Famous Jim Williams returns to Mleczarnia for a THIRD season of stand-up comedy in English! He's taken care of all the imports and exports, all the duties and tariffs, all inspections and the body cavity searches to bring you the finest imported comedy available anywhere in Poland.
First up, imported from Florida, USA is writer and voice-actor Derrek Carriveau. Enjoy his whiskey-warm voice and martini-dry wit without having to travel all the way to Florida and risk having your face eaten off by a homeless, meth-addicted crocodile.
Next, imported all the way from Cleveland USA will be Famous Jim Williams himself. Both his Polish stand-up show and his physical comedy show (Liquidmime) have won top awards at Polish comedy festivals. He's appeared on Polish television and radio, he's toured his shows all across Poland, and he's responsible for starting Stand-up Comedy in English in Wrocław. Come see why Wroclaw Uncut calls him a "comedy gem."
Finally, we present our Featured Guest of the evening, imported all the way from Galway Ireland, none other than accomplished playwright and performer Peadar de Burca! Peadar has performed all across Ireland and the UK, including the Edinburgh Festival Fringe. He's a regular columnist for Gazeta Wyborcza. His one-man show, Sunshine, delighted and amazed audiences here in Wrocław last season, and we're excited to have him back again to share his unique brand of outrageous humour that is daringly funny and dead serious at its core.
The evening will be hosted by Michigan's own Dan Mitchell.
It doesn't matter where you're from in the world, whether it's from Portugal, Pakistan, or right here in Poland. There will be no passport control, no fingerprint scans, no TSA agents trying touch your private places. Everyone is welcome to come share a drink and a laugh at one of the hottest international events in Wrocław.
DATE: Sunday, September 21st
PLACE: Mleczarnia, Ul. Włodkowice 5
TIME: 7:00 pm/19.00
TICKETS: 15zł, 10zł with student ID – ALWAYS $3!
(Tickets can be purchased in advance at Mleczarnia or online via kupbilecik.pl)