What's on at the Wroclaw National Museum?
The grand National Museum in Wroclaw features three floors of art and artifacts with a variety of Silesian and Polish items on permanent display. The four main sections at the museum include Silesian art from the 12 to 16th century, Silesian art from the 16th to 19th century, Polish art from the 17th to 19th century, and a selection of contemporary Polish art. The museum was built at the end of the 19th century, while Wroclaw was still known as Breslau and in German territory. In 1947 the museum was established and is now also associated with the Ethnographic Museum and the Panorama of Raclawice.
The National Museum features temporary exhibitions throughout the year, from Poland and abroad. Scroll down for a regular update of what's on at the National Museum.

Winter 08/09

Sroda Treasure
Dates shown: 19th November 2008 until 29th March 2009
National Museum, Pl. Powstancow Warszawy 5
A variety of pendants, rings, clasps and coins, plus an impressive gold crown from the Sroda Treasure, will be on display at the National Museum in Wroclaw this winter. The most valuable item is a crown whose last likely owner was Blanche de Valois, the first wife of Charles IV, who died in 1348. The crown is skillfully decorated eagle symbols and precious stones such as garnet, aquamarine, emerald, and pearls. The collection was first discovered in 1988 in Sroda Slaska, a town 32km west of Wroclaw.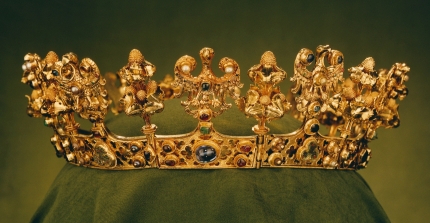 Above: The Sroda Treasure crown
Comments