Cosmetic Surgery in Wroclaw
Once upon a time the idea of flying to Poland for medical surgery would have conjured up nightmares of a one-eyed maniac stinking of vodka amputating your right leg... after you complained of an ingrowing toenail. But in today's open European climate tourists are no longer afraid of the great unknown that is Eastern Europe, and are discovering that they can in fact access highly professional medical services for a fraction of the cost that they could in Britain, Germany or Scandinavia for example.
The rise in medical tourism in Poland can be pinned on several factors, such as Poland's accession to the EU, increased awareness of Poland as a tourist destination, the increasing number of budget airlines flying to Polish cities - from Britain in particular - and the disparity in cost between dental and cosmetic surgery price in Poland and more economically-developed countries. All of the above mean that many Europeans can fly to Poland, enjoy several days away in a stunning city like Wroclaw or Krakow and, even after they've paid for their surgery, still make a saving! With Polish surgeons and doctors enjoying an excellent international reputation, it's no wonder that so many people are opting for cosmetic surgery in Poland.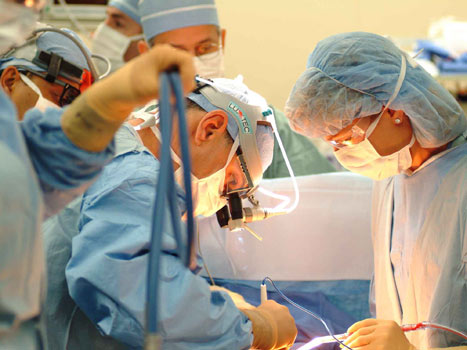 Of course there are many arguments for and against cosmetic surgery, with some claiming that the dangers of undergoing unnecessary operations (which even in the hands of the most professional surgeons can never be 100% guaranteed to go smoothly) simply for the sake of vanity are not worth the risks.
However there is an increasingly prevalent school of thought that argues that plastic and cosmetic surgery (or 'aesthetic surgery' as it is now often referred to) can seriously help in alleviating the emotional distress and raise the quality of life of those people who are unhappy with their appearance. Needless to say that plastic, cosmetic and dental surgery also can play a vital role in restoring the quality of life to victims of accidents and serious health defects.
If you are thinking about going under the knife in Poland for crucial corrective surgery (...such as breast enhancement) then do your research and be sure to find a professional clinic. Below is the beginning of a list of companies offering cosmetic surgery where you might want to begin your search.
Plastic & Cosmetic Surgery Clinics in Wroclaw
EuroMediTravel
Wroclaw
tel: +48 (0) 608031168
www.euromeditravel.com
Medical Service
Wroclaw
tel: +48 (0) 503143545
www.medical-service.co.uk
Plastic Surgery H. Knakiewicz
ul. Rydygiera 30
tel: +48 (71) 3284444
www.knakiewicz.wroc.pl
As for the tourism part of 'medical tourism', then let us be your guide... from the finest hotels, to the most outstanding restaurants and nightclubs in Wroclaw, we've got plenty to recommend in this amazing city.
Comments