Christmas Markets
Christmas. A time of grey skies and interminable drizzle, of endless advertisements on TV featuring struggling actors in Santa outfits, and a competition on every high street in Britain for the gaudiest 'Xmas Sales' sign and most unconvincing plastic Christmas tree. As the countdown towards December the 25th continues and beleaguered mothers are forced to spend their days hunting down bargains at Lakeside and stockpiling the fridge for their little brats, you have to wonder is there any magic left in Christmas or has it been reduced to a souless exercise in commercialism...
Whatever you feel about Christmas back home however, you will find the magic of Christmas is very much alive all across Poland. Here in the heart of Central Europe a combination of revered traditions and religious fervour - topped off with a liberal smattering of crisp white snow - means the festive season maintains the romance and joy fitting for the arrival of the Son of God - and the hope for peace for all men on earth. Even hardened atheists and cynics are sure to be charmed by the fine spirit with which Catholic Poland celebrates this festival where it still maintains its religious significance.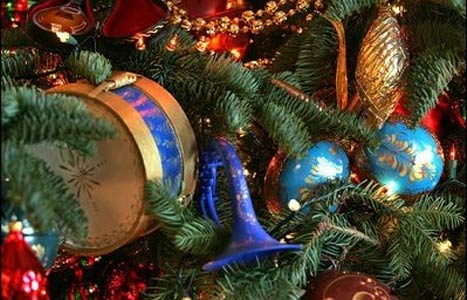 Of course we all know that Baby Jesus was brought presents of gold, frankincense and myrrh by the Three Kings, plus the odd lamb by kindly shepherds, and thus the great tradition of giving gifts to loved ones during this time was born. If you're in Wroclaw this December then don't miss the chance to do your own Christmas shopping at the markets which open up in the build up to the festive season.
The centre of the action has moved this year back from the grounds of the Centennial Hall to the main Market Square and Swidnicka street in the Old Town. Everything from exotic soaps and toiletries to wicker decorations, leather and woollen goods, and of course Christmas sweets, decorations and souvenirs will be on sale. It's a great place to find a few interesting stocking fillers and soak up the festive atmosphere. And if you feel your hands start to get cold as you finger the goods on display, then clasp them around a hot mug of grzaniec (Polish mulled wine) which will definitely help stave off the frostbite!
If, in the words of Shania Twain, that don't impress you much, then perhaps the tallest Christmas tree in Europe (well technically a needle, but it's got Christmas lights so what the hell!), a lovely display of nativity scenes and a fantastic outdoor ice-rink will get you in the mood.
And if that still isn't enough to drag you out into the cold, then a Christmas Market will take place in the warmer environs of Renoma (pl. Dominikanski) - one Wroclaw's premier shopping malls. Still stuck for ideas for Christmas gifts after all that? Time to check out Wroclaw Life's directory of shops and stores.
Wroclaw Christmas Markets 2008
This year's Wroclaw Christmas Market will take place at the main Market Square and on Swidnicka Street in the Old Town from Friday November 28th until Tuesday December 23rd. The stalls are open from 10am to 8pm everyday. Happy shopping!


Wroclaw Christmas Market 2009, 2010, 2011

The Market is back on Swidnicka Street in the Old Town again this year and will start on November 27th and run until December 23rd. Stalls will be open from 10am to 9pm everyday. For more info, stop by the official website here
If you are in Wroclaw this December then don't miss the chance to do your own Christmas shopping at the festive market which opens on Swidnicka Street. This grand boulevard, which leads all the way from the Plac Kosciuszki to the Rynek (Main Square) will come alive during December when hawkers and traders will arrive to sell their many and varied fare. Needless to say that the heart of Wroclaw - the Rynek - will be another centre of attention during the build up to Christmas. On top of the essential Christmas tree, spectacularly lit up with fairy lights, carol singers and other entertainers will be rife - and it's around this time of year too that a large ice rink appears to give the good people of Wroclaw yet another reason to love Chrimbo!
The Christmas Market usually begins on ulica Swidnicka around 1st December and runs until the 23rd December (24th December is a holiday in Poland and in fact Christmas Eve is celebrated with more pomp and ceremony than Christmas Day itself - so don't leave your Christmas shopping until then), and stalls will be open officially from 1000-1800, although entrepreneurial traders may stick around for longer if business is good.
Comments