Toompea - The High Life
In Estonian folk legend the mighty Toompea Hill, which rises thirty metres above the rest of the city, is said to be the tumulus mound of the great King Kalev. His wife Linda erected this homage to Kalev after his death, and sitting upon it she cried the tears which formed Lake Ulemiste.
Whilst we don't want to question the authority of such scientifically-proven truth, there is an alternative version which says Toompea Hill is a naturally-formed limestone hill dating back to Mesozoic times... Regardless of how it came into being, however, Toompea Hill has always occupied a special place in the conscience of Tallinn townsfolk and it is from here that the city has traditionally been ruled - from the first wooden fort constructed in the 9th Century to today's incarnation of Toompea Castle, which houses the Estonian Parliament.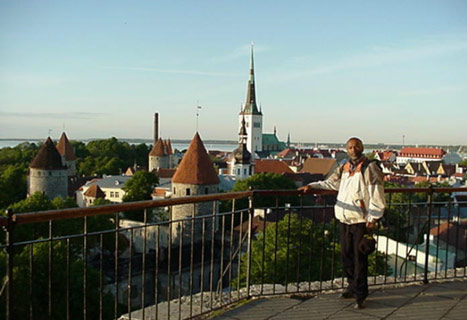 Those expecting an archetypal medieval monstrosity, complete with portcullis and knights in shining armour, might be a bit disappointed with Tallinn's castle. In fact only the shell of the 13th Century Danish edifice still remains, and inside exists the modern Estonian Parliament building (painted a nice shade of pink) and the 18th Century government administration building, constructed in the classical style by Catherine the Great.
One ancient turret still standing however is the 'Tall Hermann' tower. The highest of the castle's fortifications, it was from here, in 1987, that the Estonians defiantly flew their flag in defiance of Soviet Russia rule. This is commonly cited as one of the key events of the Estonian Revolution which eventually led to independence in 1991.
Also on the Lossi Plats (Castle Square) stands the impressive Alexander Nevsky Cathedral. If you think this is the most beautiful building in Tallinn you might want to keep your opinion to yourself. Constructed in 1900 by the Russians, in imitation of St. Basil's in Moscow, the project was a crude attempt to stamp Russian identity on the city and to suppress Estonian national spirit. Whatever its political meaning however, its aesthetics are beyond reproach.
From there move on to Kiriku Plats, where, as well as the Finnish Embassy, you will find the magnificent Gothic church of Toomkirik. 'Dome Church' miraculously survived a 17th Century fire that ravaged the rest of Toompea and stands as fine example of an Estonian Lutheran church, complete with a floor paved with tombstones.
Before you think about heading back down to the Lower Old Town, one essential thing remains to be done - and that's take advantage of the superb views on offer from Toompea's lofty vantage point. The Kohtuotsa and Patkuli viewing platforms are a highlight of the Upper Old Town offer a spectacular King's vista over Tallinn.
Comments