Sun Dance Music Festival
Three glorious sunny days, three hundred cutting-edge DJs and thirty thousand people in a seething, roaring mass - it can only mean one thing! The Sun Dance Music Festival is back for 2006... And it's bigger and badder than ever!
Tracing its history back to 1999, when thirty disc jockeys turned up to rock a crowd of six thousand people in a suburban sports centre, the Sundance Festival didn't take long to find its feet. The very next year saw Kings of Tomorrow headlining and the event increase in scale from an all day party to a two day jamboree. In 2005, the SDMF was almost unrecognisable from the 1999 prototype, as acts from twenty countries around the world descended on the Tallinn Song Festival Grounds (Lauluvaljak) to play to a exultant crowd of thirty odd thousand revellers...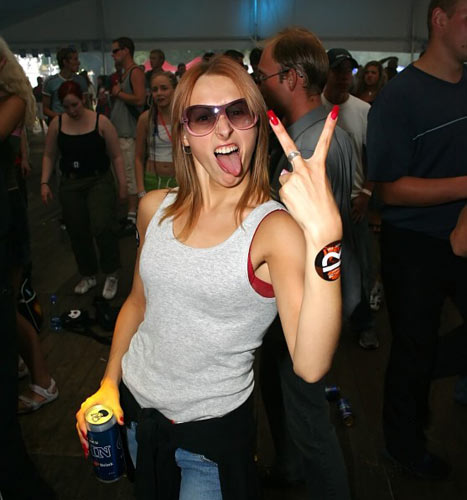 So what's new in 2006? Well the superb festival grounds, at the Lauluvaljak, stay the same but this year the programme is set to extend from two to three days of fun-filled hedonism - and the big name DJs just got bigger! With acts like Afrika Bambaataa and DJ Cash Money already booked, and giants like Derrick May and Derrick Carter soon to be confirmed (fingers crossed!) this year could prove the best yet for house music lovers; whilst drum and bass fanatics will be wetting themselves with glee at the prospect of seeing Grooverider, MC Tali and the mighty E-Z Rollers come to town.
In fact with no less than ten stages, including Defected In the House, World of Drum and Bass, Chill arena, VIP zone and many more, three days may not be enough to sample everything the Sun Dance Music Festival has to offer. And the entertainment doesn't stop at raving it up alone! Last year a beach volleyball arena, skateboarding competition and (if you were lucky enough to be in the VIP tent) erotic dancers spiced up the musical programme and ensured the event had a true festival vibe. Although the entertainment is yet to be announced we're expecting more of the same, so keep your eyes on the official Sun Dance Music Festival website for more.
In addition to the SDMF itself, the excitement generated by the event means that all sorts of pre-parties, after-parties and in-between parties will be happening. These mainly take place at Club Prive and Stereo 88, which are run by the same people behind the SDMF, the Vibe organisation.
For all information on tickets, rules and regulations, latest updates on the line-up and news in general we'll refer you again to the official SDMF website.
Comments