It's Cricket Jim...
But not as we know it! For those of you who have always considered cricket the archetypal summer game, best played on a long hot July afternoon with cucumber sandwiches, a few cold beers and players dressed in elegant white trousers and shirts (with a v-neck sweater for when it gets a bit chilly in the evenings) - then time for you to think again! Tallinn's latest sports craze, Ice Cricket, is about to shatter your outmoded illusions.
Here in Estonia we don't get half as many perfect summer days as we get perfect winter ones, which of course is bad news for resident cricket fans. Or at least it was until the Estonian National Cricket Coach, Jason Barry, had a novel idea. Disregarding the tired notion that to play cricket you require warm weather and a smooth pitch he decided that just as much fun can be had - if not more - when you decide to take on the elements and bash a plastic ball around on a frozen lake!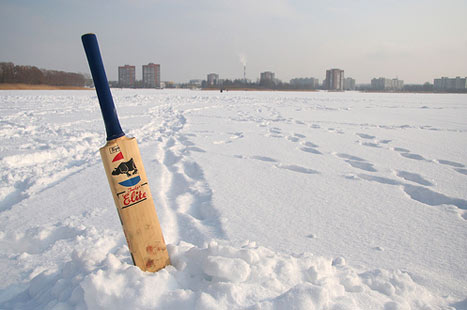 In fact, despite the very different look of the game, ice cricket is much the same in terms of rules as its more conventional predecessor. Runs are scored as usual, with boundaries for fours and sixes, although rolling subs and smaller squads increase the pace of the game (let's face it when it's minus twenty outside you don't want to stand around). The equipment is slightly different too: a bright red indoor cricket ball ensures that the round fellow is not easily lost in the snow, spiked shoes prevent players eating snow all match long, and a wicket painstakingly carved of ice is the game's 'piece de resistance'.
So much fun is this new slant on the beautiful game that teams of all abilities have signed up from around the world to take part in annual tournaments in Tallinn and pit their wits against the opposition and the snow. And needless to say that the festivities are helped on with a generous amount of hot food, cold vodka, and warm mugs of mulled wine. If ever the clich 'Cricket is the winner' deserves an airing, it's during a good-spirited game on the frozen planes of Lake Harku!
Check out Ice Cricket's official website to find out how you can join in the fun!
Comments