For all Pub lovers
For all football fans or pub lovers be prepared for a big game. If you decide to go and support your team in one of Tallinn's pubs this we leave up to you.
The good news is that Tallinn has plenty of pubs and bars in which to accommodate her many guests, and most of them are conveniently located in the Old Town, all within stumbling distance of one another. Many directly cater for the foreign hordes and if you're the sort of person who's never happier than when you've got one hand on a pint and another on a burger you'll find a score of Irish-style boozers to live it up in.
Molly Malone's on the Town Hall square surely has the best location of them all, although the same owners boast the ever popular Nimega and Nimeta Bars (The bar with and without a name respectively). Another, slightly classier hang-out is the oldest pub in town Hell Hunt, where you can get a great club sandwich or a classic cheeseburger and a width variety of beer - plus some credible music. If you like to stay in a bigger crowd try one of the famous St.Patrick's or try "next" doors The Dubliner.
Should you need a ride between your beer's Tallinn Taxi will be of your best assistance, but most probably you will just need it to go from pub and go back to your sleeping place...so never get lost in Tallinn.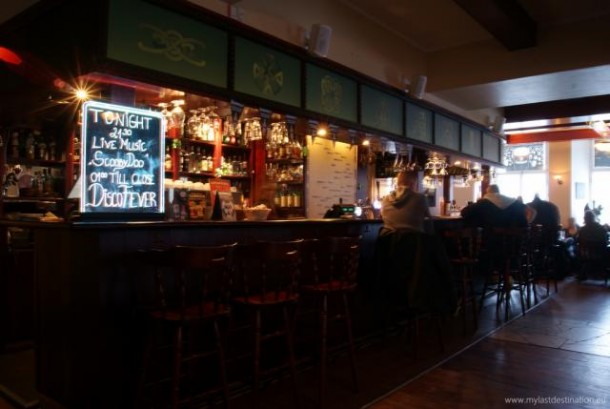 Once it gets time to head to a club (which for most Tallinners is sometime after midnight) your options aren't quite as varied, although there's still a few places well worth checking out. Club Hollywood is the obvious place to head if you're a sucker for the winning formula of cheesy tunes, friendly atmosphere and drunk girls, offering an even wilder alternative is Venus Club competing for the same market. For those looking for at least a little decorum to their nightlife then Vabank, a one time members only club, is a pretty reliable bet (although there's no guarantee the music will be much more sophisticated!). If you are the discerning clubber type then we suggest you put your best glad-rags on and head to Prive, where you're likely to find quality turntablists doing their thing. Vibe, the organisation which set up Prive, made its name by throwing raucous warehouse raves - so keep your eyes out for posters, or check their website.
For a blow by blow account of Tallinn's bars, cafes, pubs and clubs we suggest you check out our bars and clubs directory, where you'll find a more detailed description of some of the city's best venues.
Photo by Guillaume Speurt (CC by-sa 3.0)
Comments