Blonde Jokes
Are we at Local Life the sort of sad and pathetic people who will milk a nation's genetic make-up and a tired stereotype in order to get a few cheap laughs? Damn right we are! Having trawled (...and believe us, it was like sifting for gold in Lake Ulemiste with a collander!) the internet for Blonde Jokes we 'proudly' present the best of the worst.
Feel free to impress your mates by reeling one out whenever your distinct lack of social skills threatens to create an embarrassing pause in the conversation.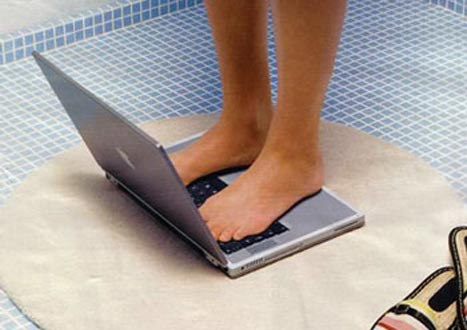 Above: Remember never to leave your laptop in a blonde's bathroom!

Q: Why did the blonde get fired from the M&M factory?
A: For throwing out the W's.
Q: What's the first thing a blonde does in the morning?
A: Introduce herself.
Q: Why did the blonde get so excited after she finished her jigsaw puzzle in only 6 months?
A: Because on the box it said: From 2-4 years.
Q: Did you hear about the blonde who tried to blow up her husband's car?
A: She burned her lips on the exhaust pipe.
Q: Why don't blondes read Shakespeare?
A: They don't know who wrote it.
Q: What is the definition of gross ignorance?
A: 144 blondes.
Q: What's the difference between a blonde having her period and a terrorist?
A: You can negotiate with a terrorist.
Q: What do you call a blonde skeleton in the closet?
A: Last year's hide and seek champion.
Q: What did the blonde's right leg say to the left leg?
A: Nothing. They've never met.
Q: What do you say to a blonde that won't give in?
A: "Have another beer."
Comments