Minsk National Airport
The Minsk National Airport (Minsk-2 / MSQ) is the main airport for Belarus, serving over one million passengers per year from international destinations (though it is capable of accommodating up to 5.8 million per year). While the airport has only one runway, it remains the country's largest, covering an area of 925 hectares.

Construction of the airport was completed in 1982, and one year later the Minsk National Airport began connecting Minsk with domestic flights within the Soviet Union. It soon acquired the status of international airport and took over duties from Minsk-1 airport, which was, up until then, Minsk's primary civilian airport.

Minsk National Airport is located 42 km east of Minsk in the Smalyavichy Raion and Kastrychnitski District.

Inside the airport you'll find several restaurants, shops, and ATMs. A map, and further details on the airport in general, is available at the official website.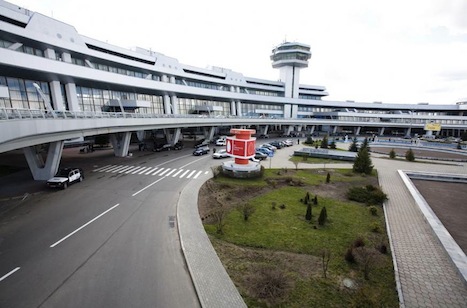 Airlines and destinations...
Belavia: Amsterdam, Ashgabat, Astana, Baku, Batumi, Beirut, Berlin, Ekaterinburg, Frankfurt, Hanover, Helsinki, Istanbul, Kaliningrad, Karaganda, Kiev, Kostanay, Larnaca, London, Manchester, Milan, Moscow, Paris, Pavlodar, Prague, Riga, Rome, Simferopol, Sochi, St. Petersburg, Stockholm, Tbilisi, Tehran, Tel Aviv, Warsaw, Yerevan.
Aerosvit Airlines: Kiev
Air Baltic: Riga
Austria Airlines: Vienna
Czech Airlines: Prague
El-Al: Tel Aviv
Etihad Airways: Abu Dhabi
Georgian Airways: Tbilisi
Lot: Warsaw
Lufthansa: Frankfurt
Rusline: Krasnodar
Turkmenistan Airlines: Ashgabat
Turkish Airlines: Istanbul
Utair Aviation: Moscow
There are no budget airlines currently flying to Minsk.
Getting from the airport to the city...
The airport is well connected to the city by road, with a brand new (though eerily quiet) motorway allowing for a breezy half-hour car ride to reach the centre of Minsk. Jump in one of the many registered taxis outside the airport terminal - the trip should cost no more than 200 000 Belarusian rubles (roughly 27 euro). For a cheaper alternative, have the taxi drop you off at the nearest metro station (Uruchie), shaving 10 km or so off your taxi fare.
It's also possible to rent a car at Minsk National Airport, with services provided by Europcar and Sixt.
For budget-conscious travellers, there is a public bus leaving the airport (no. 300), dropping off passengers at Uruchie Metro station, Vostochny bus station, and Moskovsky bus station in central Minsk. The fare is currently 6000 rubles, paid directly to the driver.
Comments