Strijp-R, an Eindhoven hotspot!
If you're an urban explorer and like the industrial design locations in Eindhoven, you should not miss Strijp R. This place houses one of the old factory areas of Philips and has been transformed into a place of creative design, housing and even a cool restaurant.
The history of Eindhoven is intertwined with Philips. Back in the day it was the largest company in Eindhoven and all of Eindhovens inhabitants were in one way linked with Philips or its suppliers. The company provided factories, housing, entertainment and sports-areas for their workers.
One part of the areas for factories was called Strijp after the district 'Strijp' that was a separate municipality until 1920. Philips simply labeled the factory-areas by the letters in the word Strijp. So the first area was called Strijp-S, then Strijp-T, Strijp-R and the next would have been called Strijp-I (if ever completed). Strijp-R is a post-war terrain and the birthplace of television. The factories in this area were all built to contribute to the mass-production of television screens. The first to be built in 1946 was the Ceramic factory which produced heavy ceramics for radios and televisions.
Starting in 2008 most of the buildings have been demolished to make room for about 500 homes. The design of these homes can be traced back to the design of the Philips factories, since most of them have ornaments that remind to the elements of the factories. Some of the buildings are (partly) kept and re-used like the 'Portiersgebouw', Ceramic workshop and the 'Pompgebouw'.
Nowadays the Ceramic Workshop has been transformed into Piet Hein Eek's creative magic kingdom housing a workshop, exposition space, store and restaurant. At the workshop and store you can see high-quality wood furniture being designed and produced and the best part is shown in the exposition area. The restaurant of Piet Hein Eek has the aspiration of Michelin-stars and is a cool design place to hang out and have dinner. If you like more information about this place, you can also visit eindhovenhotspots.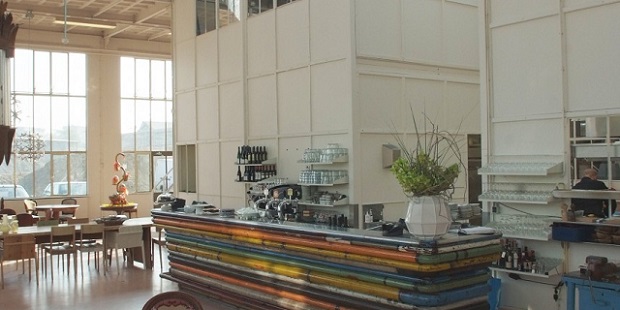 On the other side of the building is the Pinkie Patisserie that provides Eindhoven with its finest products like cakes, chocolate and other sweet stuff. Be sure to stop by and take some deliciousness home with you.
Part of the Portiersgebouw ('guard building') is still being rebuilt by Piet Hein Eek and investor Amvest into a building for housing and workspace. So if you have fallen in love with this area, you can check out the possibility of moving here at www.strijpr.nl.
Comments