Equilibrium - Art Meets the Sharing Economy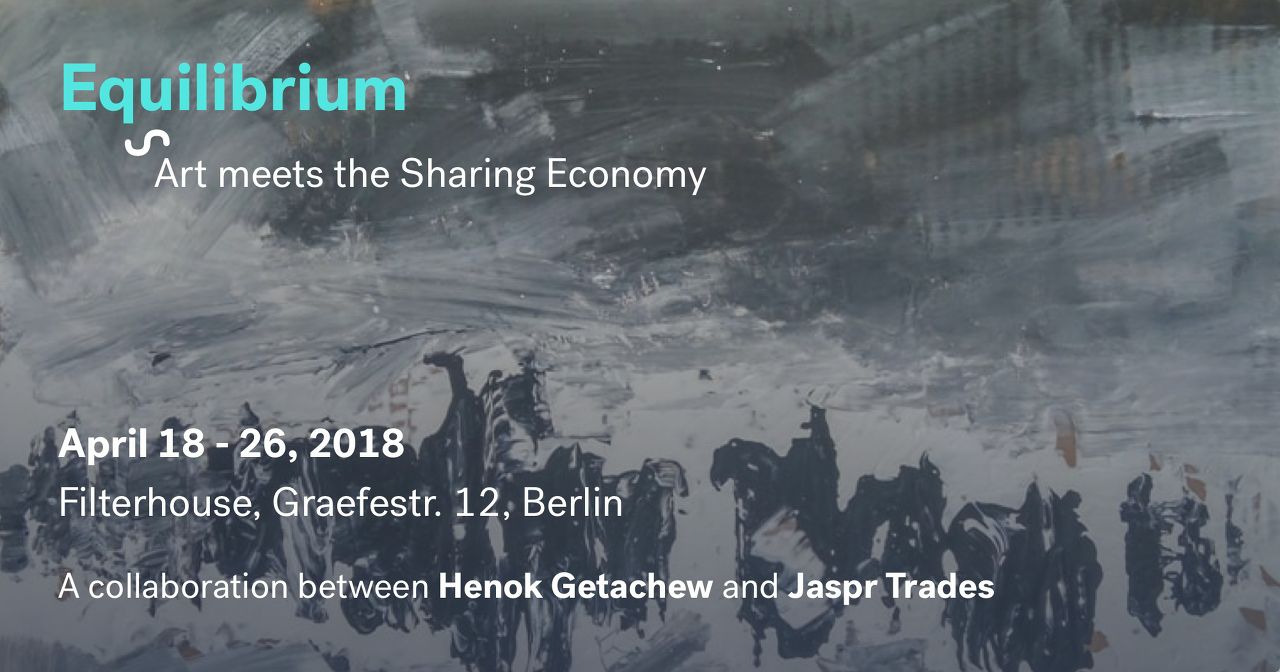 In this artistic experiment, Ethopian artist Henok Getachew is teaming up with Jaspr - Swap, Save & Help People Nearby to auction works from his "Equilibrium" collection, - with no money involved.
These works will be available to be acquired by the public via cash-free trade, with guests asked to make bids on the art they love with the goods and services they would offer in exchange.
Throughout the week, Henok, Jaspr and Filterhouse will be hosting a variety of events that promote Art within the Sharing Economy.
Schedule:
Wed, April 18 - OPENING NIGHT
Sun, April 22
"You don't suck at art: Free art class with an incredible artist"
https://www.facebook.com/events/564296657275727/
At this event you will sketch the portrait of another guest, and swap the sketches at the end. It promises to be great fun, and a rare chance to get instruction from a celebrated artist.
Tues, April 24
"Your soul on canvas: Free portraits by international artist"
https://www.facebook.com/events/2035639210042361/
At this unique event you will get a chance to have your portrait sketched by renowned artist Henok Getachew as part of his "Equilibrium" art experiment. Instead of paying for the artwork, you will only be asked to bring an object or offer a service for trade that helps reveal your inner self.
Thur, April 26 - CLOSING NIGHT & AUCTION
--
"Equilibrium"
A condition in which all acting influences are canceled by others, resulting in a stable, balanced system. It is the search for the middle ground - a stable position within a society where one is expected to fit in. This series explores the themes of stability within our society.
--
Henok Getachew
http://www.henokspace.com
Henok started practicing art from the age of six in the form of drawing, painting and clay sculpture. After a brief foray into Physics, he joined Addis Ababa University's Ale school of Fine Arts and Design and graduated with a B.A in Art Education in 2008.
Since graduation, he has experimented with different media and techniques including video, mixed media and performance to generate his body of work. Working with video and performance extends Henok's work beyond the 2D, allowing him to experiment with time and space.
Within his practice, an artwork's history and process of creation are equal to the final product. The concepts of Stability and Equilibrium are also infused into Henok's workflow, with much of his material being sourced from the environment around him.
In Ethiopia, Henok has held numerous exhibitions and performances, and helped to found the Netsa Art Village collective with other 10 Ethiopian artists.
In addition to this work in his home country, he has also had exposure internationally, with his work being exhibited in countries like Germany, India, Cuba, Morocco, Mexico and Tanzania.
Since 2017 he has been based in Berlin, experimenting and developing his works in his Kreuzberg studio.
--
Jaspr
https://www.jasprtrades.com
Jaspr is a Berlin-based startup with a mission to bring cash-free trade back to the world. With their innovative approach to trade (via a website and mobile apps), Jaspr helps you save money, make friends, live more sustainably, and have experiences that money cannot buy.