Cycling in Amsterdam
Cycling is nothing short of a way of life in Amsterdam, and for visitors, it's a great way to get to know the winding roads of the city in a truly Dutch way. Bicycle culture is deeply embedded in Amsterdam's society, and you can see anyone from students to formally dressed business men, briefcase in hand, zipping by on two wheels.
In fact, over 60 per cent of trips made in the 17th-century city centre are made by bicycle, and considering the near inaccessibility by car through some of these narrow, and often one-way roads, it isn't much of a surprise.
You might get the feeling that bicycles are practically everywhere in Amsterdam, and you probably wouldn't be wrong. After all, bicycles actually outnumber permanent residents with an estimated 881 000 bicycles in a city of 780 000. To deal with these numbers, several large bike parking lots have been set up, both under and overground. The Amsterdam Centraal station Bike Flat parking can hold 2500 bicycles over its five floors - and it's usually overpacked.
Luckily, joining in on this typically Amsterdam activity is easy and cheap, with bicycle rental shops everywhere (stop by our Services guide to look through some of our own suggestions). You won't need to worry about fighting for space with cars on most streets either - Amsterdam is one of the most bicycle-friendly cities in the world with 400km of bike paths ("fietspaden"). Bike tours are also a fantastic sightseeing option (read about our choice of the best bike tours here), or simply grab yourself a bike and a map and get moving!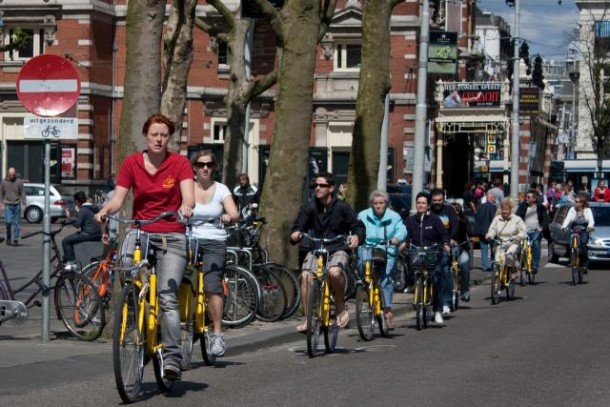 Tips for Safe Cycling
Amsterdam may be very bicycle-friendly, but you still need to keep a few things in mind to make the most of your bike trip, and most importantly, stay safe!

- Stick to marked bike paths as much as possible, and if none is available, join car traffic - never bicycle on sidewalks or pedestrian-only streets.
- Watch out for signage and obey traffic lights. Amsterdammers have a bad reputation for plowing through red lights - don't do it!
- Lock up. Most rental bikes will come equipped with two locks - a back wheel lock, and a chain lock, which you should wind through the frame as well as the front wheel. Make sure to safely lock your bike at all times as bicycle theft is a real problem in Amsterdam (50 000 bikes are stolen every year!).
- Watch out for tram rails, it's easy to get your wheels stuck in them, so try to cross them at an angle.
- Keep moving! If you're on a busy street you'll likely be cycling with a pretty big crowd. It doesn't take a genius to realize why stopping in the middle of a bike path to check your guide book is a bad idea.
- Watch out for pedestrians. Many tourists don't notice bike paths and can often get in the way - a quick ring of your bell should alert them of the oncoming two-wheeled traffic.
- Cycle carefully at night - this means always using a front and back light (it's the law), and do we really have to say it? Don't drink and bike!
Photo by Hans Splinter (CC by-nd 3.0)
Comments