The 7 Best Bike Tours in Amsterdam
Amsterdam breathes cycling - there's more bikes than people here! Locals do everything by bike: commuting to work, to school, doing groceries, shopping, carrying christmas trees, dogs, children, friends and lovers. On two wheels is just the best way to discover the magic of Amsterdam. It's fun, inspiring, and you'll get a great overview of the city. And the bike infra in Amsterdam - with over 500 km of designated bike lanes - is kick ass. Also, apart from the occasional bridge, it's completely flat. At first, biking in Amsterdam can be a bit overwhelming, so a guided bike tour is a great way to get into the groove. GetYourGuide offer one of the best, a 3-hour guided bike tour of central Amsterdam with a full refund if you're not fully satisfied with the tour. Read on if you want to find out a bit more about the other best-known ones.
1) Mike's Bike Tour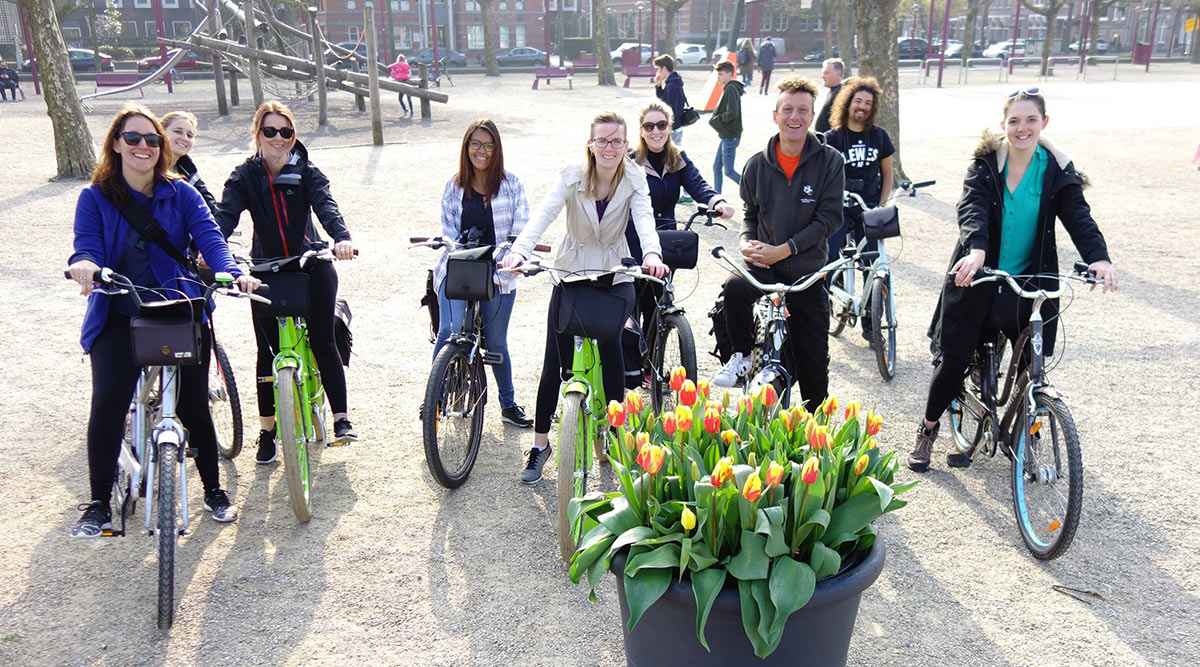 Mike's bike tours has been around, with over 20 years of experience discovering Amsterdam on two wheels. They are centrally located in an old warehouse, a monument dating back to when Amsterdam traded in the West Indies. Mike's has several different tours, from city, mini city (short intro tour) to the countryside (where you will climb a 400 year old church) or go beer tasting, and eating pancakes at the Amsterdam wood. Their most popular is the much tried and tested City Bike Tour, a dazzling ride along many of the highlights that make Amsterdam so special. Mike's bikes are colorful, sturdy and laid-back city bikes, so you will look cool (and not too touristy). Popular with young people, like backpackers and budget travellers.
Price: 34 Euro
Bicycle Type: City bike
Duration: 2.5 to 3 hours
Maximum group size: 15
When: Every day at 14.00
Itinerary: Hit the big Amsterdam highlights like the Museumplein, Vondelpark, Skinny bridge (Magere brug), Jordaan neighborhood, Canal Belt, Nieuwmarkt and the Waag (the old city entrance), the Anne Frank House, Entertainment districts (Leidseplein, Rembrandtplein), De Pijp and the famous Albert Cuypmarkt, Prinsen Island, Old harbor area where Nemo and Scheepvaart museum are located, the Artis Zoo, and Botanical Gardens.
Click here to book
2) Baja Bikes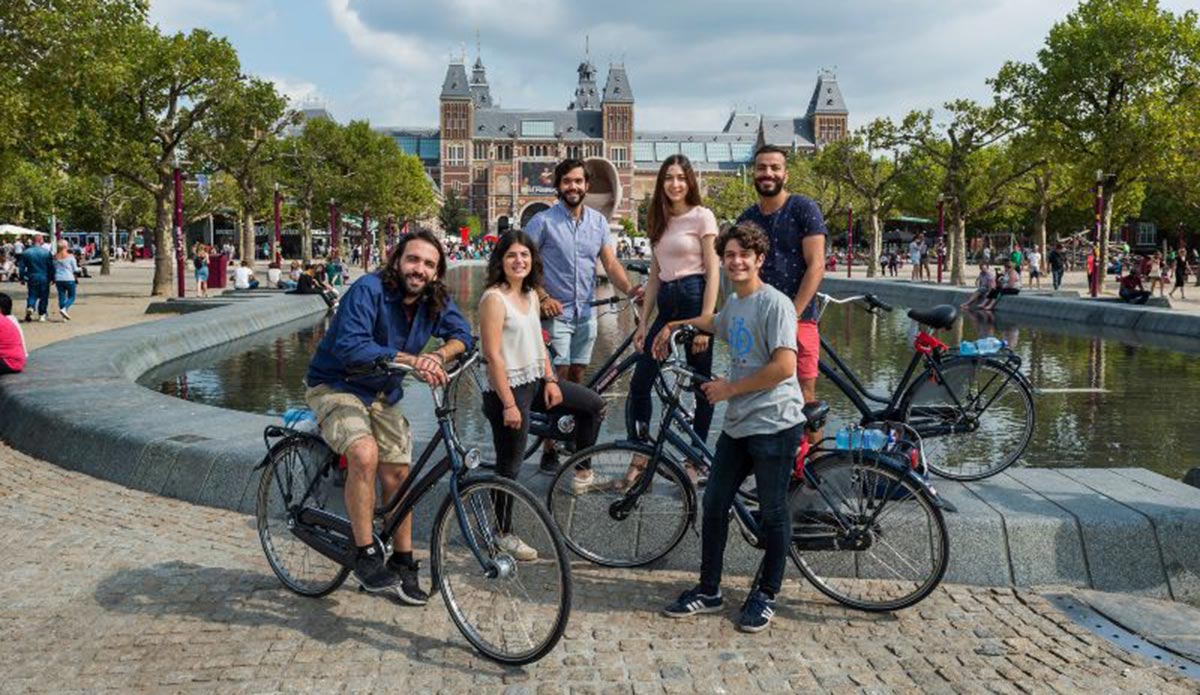 Started by a Dutchman in Barcelona in the 90s, Baja Bikes is now the biggest bike tour and rental platform in the world, with over 150 cities to choose from. Obviously, Amsterdam is on that list, and if you have never been, their signature Highlight Tour is the popular choice. They recommend to do the bike tour early in your visit, this way you get a headstart, touching upon most highlights within 3 hours, also mixed up with some lesser known locations. Baja Bikes appeals to a more grown-up crowd, who want to explore the city in a fun, safe and secure way. But Baja does special tours for students and families with children too, as well as private tours upon request.
Price: 34.50 Euro
Bicycle Type: City bike (the famous red Mac Bike bike)
Duration: 2.5 hours
Maximum group size: 15
When: English-speaking tour every day at 14.00
Itinerary: Bike by many of Amsterdam's famous and beautiful highlights, like the Schreierstoren (Schreier's tower) where the sailors used to leave and the women wept, the most central Rokin Street and the Royal Palace at Dam Square, the quaint and bohemian Jordaan neighborhood, the Anne Frank House, 9 Streets shopping area, Vondelpark, Museum Square, the canal area, Skinny Bridge (Magere brug), and historical Jewish neighbourhood.
Click here to book
3) Amsterbike Historical Bike Tour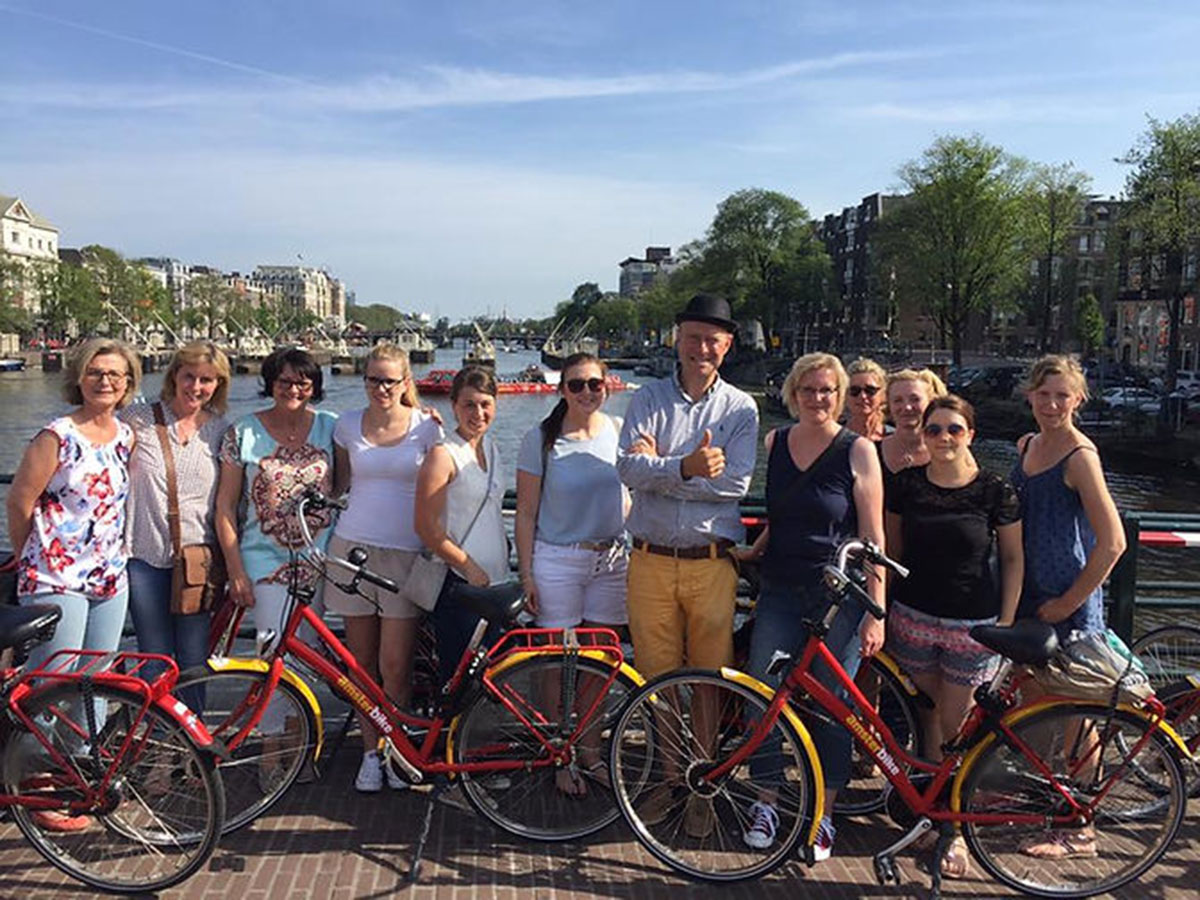 This is another popular Amsterdam highlight bike tour, with a special focus on the city's history. The tour is given in three languages, English, Germain and French (the latter only in the afternoon), sometimes two at once. Amsterbike is located on the East side of Central Station, at the IJ River next to the cruise ship terminal. They also organize corporate events and tuk tuk tours. Good value for your money, and they are flexible time and language wise. Note: groups of 15 is quite large, so you need to be flexible as well.
Price: 32 Euro
Bicycle Type: City bike
Duration: 2 - 3 hours
Maximum group size: 10
When: 10.00 and 14.30
Itinerary: This historical bike tour will take you along the famous 400 year old canals, the IJ River with views of the Adam Tower, around the 17th century Western islands, by the Westerkerk (the Western Church), and the Jordaan neighborhood, with a lovely break in the Vondelpark. You'll linger some time to take photos at the Skinny Bridge (Magere brug) over the Amstel River, and see the Dutch East Indian Company ship in the old harbor.
Click here to book
4) We Bike Amsterdam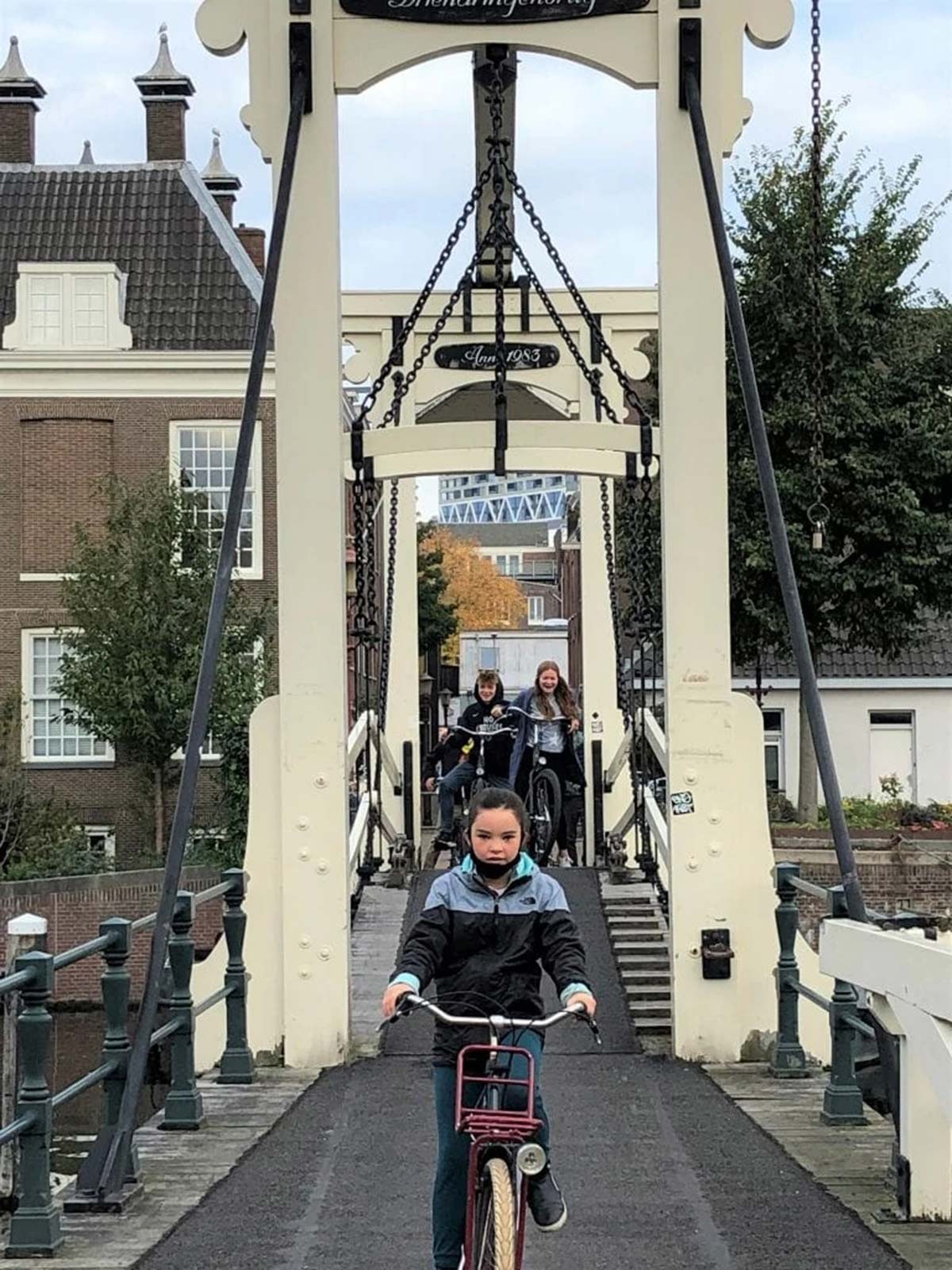 If you've been to Amsterdam's biggest highlights, and now want to now use your bike to explore the less obvious back streets and alleys of the city, this tours for you! We Bike Amsterdam, a small-scale and local company, organizes this popular 'hidden gems' tour. The tour guides are experienced, enthusiastic and know a lot about the city, about the local culture and life on two wheels. They want to burst the bubble of the mainstream tourist experience, and believe the bicycle is best for this. As an Amsterdammer and creator of local biking guides, I agree! Good for people who want to look a bit further, and appreciate a personal, more local approach, as well as smaller groups.
Price: 35 Euro
Bicycle Type: City bike
Duration: 3 hours
Maximum group size: 12
When: Every day at 10.00 and 14.00 (language: English)
Itinerary: This tour leads you through the backstreets of Amsterdam and let's you experience the city like a local. Explore the 'hofjes', the hidden courtyards, playgrounds, shopping streets, and the impressive churches of the Jordaan neighborhood. Stop for a break at a favorite local café. Bike the green oasis of the Vondelpark, and get your museum bearings in the Museumplein.
Click here to book

5) Countryside Bike Tour (on electric bike)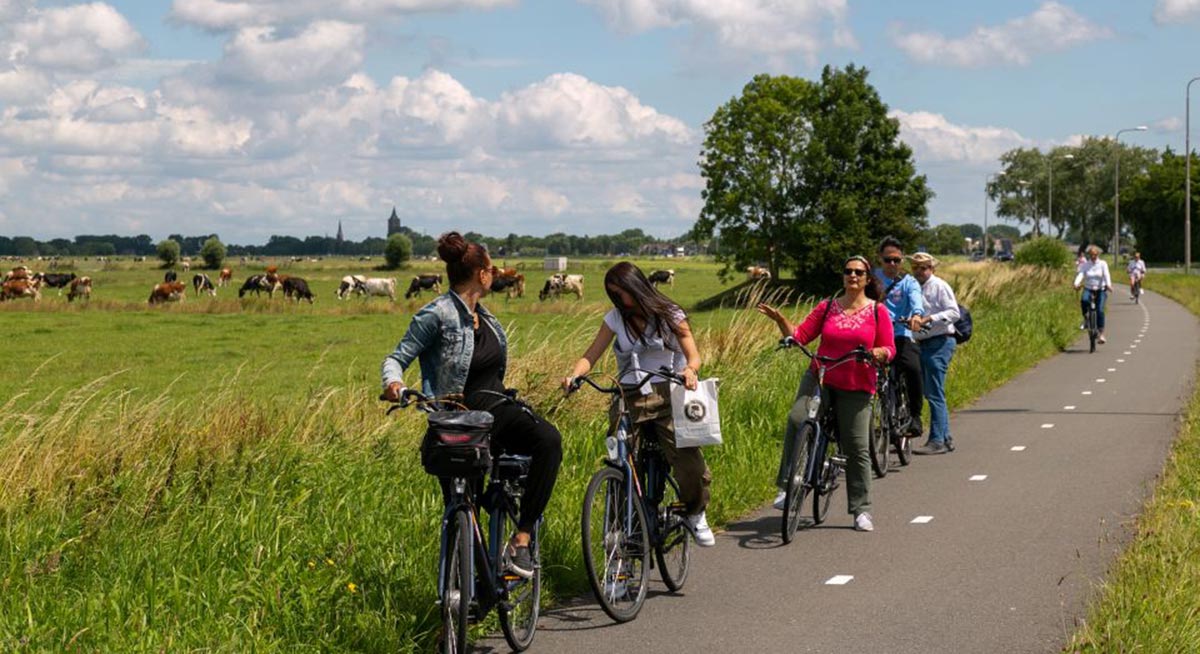 This is another popular Amsterdam bike tour,taking you outside of the city and back. The tour can be given in three languages, English, Germain and French, sometimes two at once. Good value for your money, and they are flexible time and language wise. Note: this is not only a cycling in the countryside tour, but it has also quite a stretch in the city. Fortunately, you are provided with an electric bike to make the tour a whole lot easier! Also, if you are not into 'touristy' tours, this one may not be for you.
Price: 49 Euro
Bicycle Type: Electric bike
Duration: 3 hours
Maximum group size: 15 (? have called no answer yet)
When: Every day at 10.00
Itinerary: This bike tour takes you from the busy chaos of Amsterdam, along the Amstel River, along which the city was founded, into the green Dutch countryside. On the way, you will see the Skinny Bridge (Magere brug), the Blue Bridge (Blauwbrug) and the locks regulating the level of the water. Then all of a sudden, you are outside of the city, in the Dutch polder, and you'll stop at a 15th-century farm that specializes in making cheese and clogs.
Click here to book
6) Tom's Travel Tours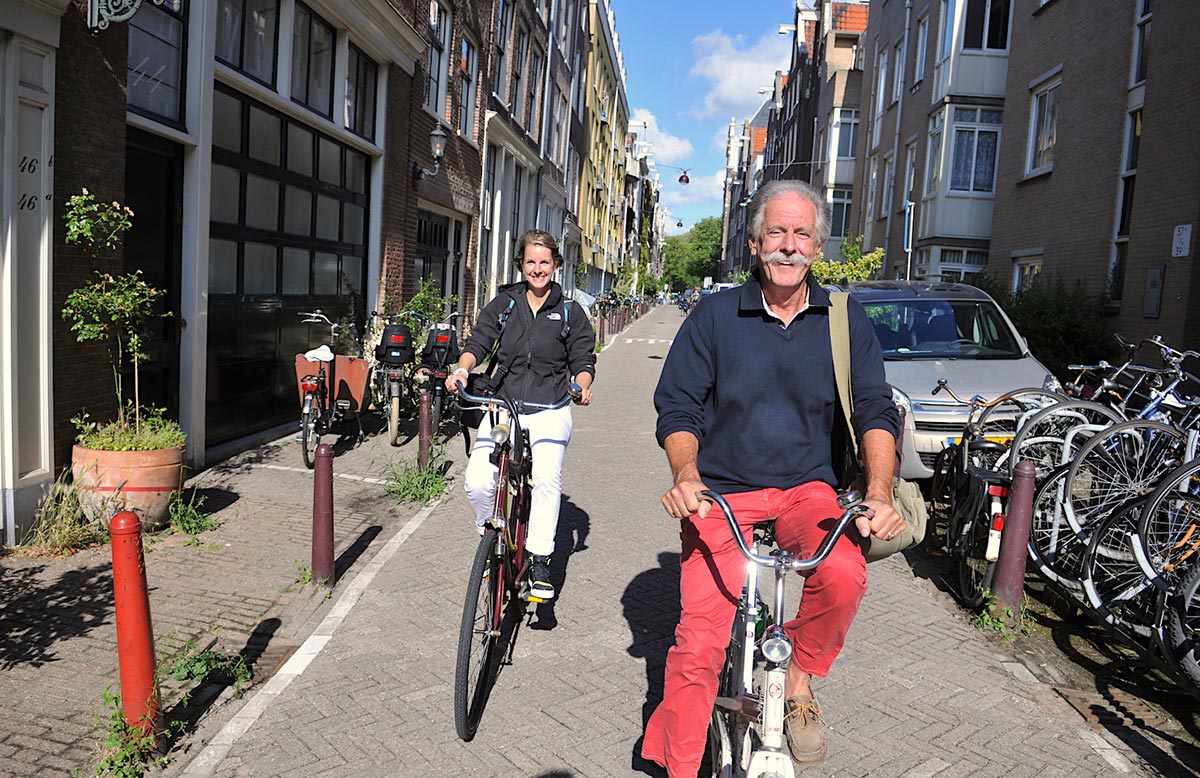 Tom is a fine Amsterdammer, a photographer and travel expert who started a private guiding company called Tom's Travel Tours. They also do bike tours. Tailor-made and genuine, showing you the most inspiring sites, in a personal and insider way - you will also go inside places and meet some of the locals who make this city tick. This is a different kind of tour, geared towards people who want and can pay for a unique experience to this city, using the bike as they key to unlock it. Guided by very knowledgeable and friendly guides, also possible in various languages.
Price: Quote upon request
Bicycle Type: Depending on wishes
Duration: Variable
Maximum group size: small groups (not more than 8), as it's private tours
When: Upon request
Itinerary: These bike tours will take you along the old canals, through the Jordaan neighborhood, and Western islands, over little streets and bridges. And then to Amsterdam Noord (the Northside) with the free ferry - an experience in itself - visiting the NDSM wharves that are now converted into creative spaces with many murals and artists abound. You can also decide to go further into Noord, beyond the industrial sites towards green fields and the lovely old fishing village along the IJ lake, Durgerdam. A good choice for custom tours, if you have special requirements for your group. Contact them directly for a quote
Click here to book
7) Ride With Me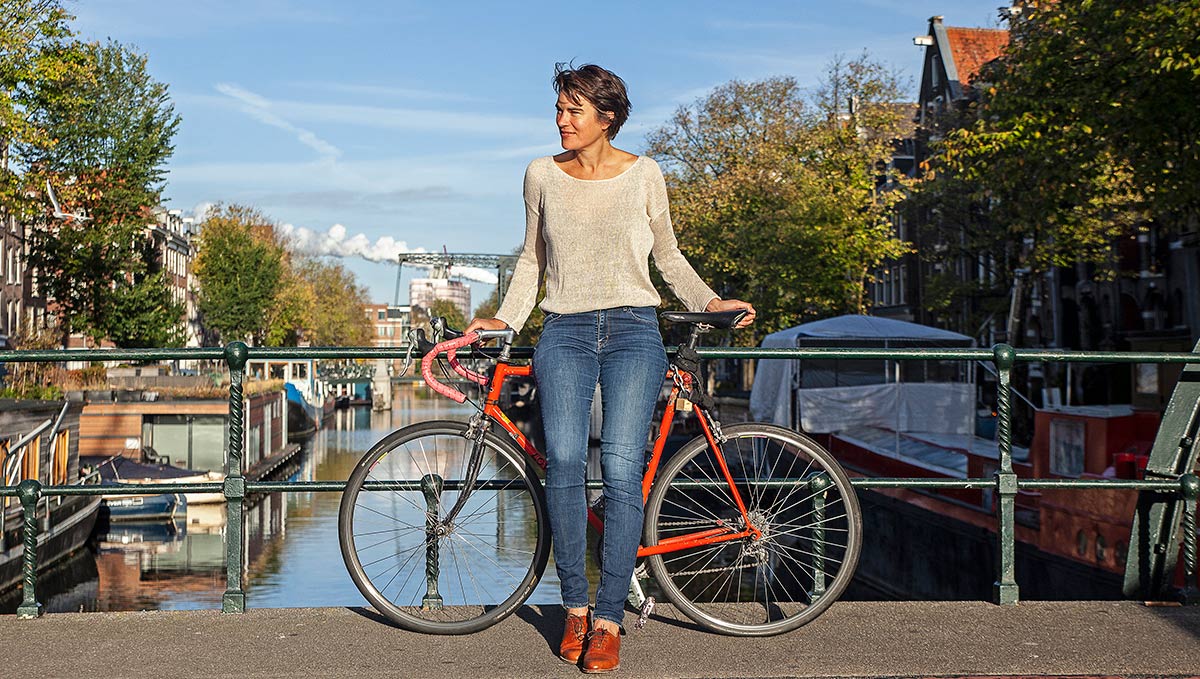 Fancy going for a spin with the writer/artist of Ride with me Amsterdam, or one of her friends? Chat about life, while discovering the best bike routes, coffee, art and markets around? The book Ride with me Amsterdam offers recipes for urban adventures, mixed with stories of local bike lovers, maps, illustrations and photos by the artist herself. When Roos is not busy writing, or exploring new cities, she'll be happy to meet with you and show you around. She also has some creative friends (some also featured in the book) who would be enthusiastic to be an occasional bike guide.
Price: 160 Euro for 3 hours improvised ride including coffee or a beer
Bicycle Type: City bike
Duration: 3 hours
Maximum group size: 4
When: 10.00 or 14.00 (but also flexible)
Itinerary: Depending on your mood, we will go North, crossing the IJ River, into the more open and wild Amsterdam, with artist studios in old ships wharves, breweries, and restaurants in large warehouses. South, through the green heart of Amsterdam, the Vondelpark, and into the more posh areas of the city, with beautiful 'Amsterdamse school' architecture, and wide streets lined with trees. East, along the manmade Eastern islands, riding by houseboats, over a long cycling bridge, and into the hip and happening areas of East with a cool market, and many bard too. Or West, to the Westerpark, with the old gas factory sites, more nice coffee shops, art and bars to discover.
Click here to book
---
8 advantages of exploring Amsterdam by bike
Amsterdam is completely flat (apart from the occasional bridge over a canal)
Biking is an easy workout, no need to sweat, but you will still benefit from the exercise

You get further and see more things than on a walking tour

Amsterdam has 515 km of dedicated bike lanes, and really, it's fine to cycle everywhere!

Cycling is the best way to get an overview of the city

You will feel what it's like to live here

It's a green and climate friendly way of seeing the city

Bicycle tours tend to be very affordable!

---
Some tips from a local
RELAX, it's safe and you will be fine

Stay on the RIGHT, and never just stop in the middle of the bike path

Pay attention at the white triangular 'haaientanden' (shark teeth) on the road to see who has the right of way

Don't ring your bell, unless some tourist blocks the bike path;-)

Make eye contact and use your arms/hands to signal where you want to go

Watch out for the tram tracks - don't get your bike wheels in them or you'll come a cropper
Comments