ADE: Amsterdam Dance Event
Since its inception in 1996, Amsterdam Dance Event, or ADE as it's more commonly known, has grown into an incredible musical phenomenon. Now considered the world's biggest club festival for electronic music, ADE is equally known for its role as Europe's leading dance music conference for music professionals. Having grown from a casual 3-day affair, ADE now fills 5 whole days and nights with hundreds of events. During the day, 3000 music professionals use the opportunity to make new business connections and impart their wisdom to aspiring youth. At night, nearly 1000 artists perform to nearly 150 000 music fans gathered from across the globe in over 50 clubs across Amsterdam. ADE is made up of several sections and special events, so here's our introduction to some of the must-see sections of the Amsterdam Dance Event.
ADE Showcases
Every year, hundreds of artists perform at ADE, from big name acts like David Guetta and Richie Hawtin, to underground DJs and budding new talent. A big highlight at ADE are the showcases presented by promotion and talent agencies, as well as much loved labels like Planet E, BPitch Control, Kompakt, and of course, Amsterdam's own Rush Hour.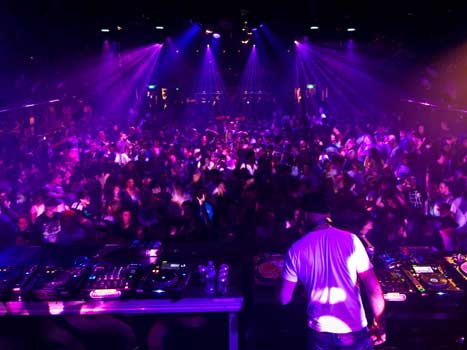 photo: Emma Pierre
ADE Playground
The people of ADE have created a digital playground for visiting artists and curious amateurs, allowing them to test out cutting edge technology and meet the people behind such well-known music companies as Novation and Beatport.
ADE University
Throughout the festival, ADE University hosts a series of talks and workshops related to the music industry, from education to technology, as well as presentations by specific artists about their own experiences.
ADE Next
Catering specifically to the next generation of musicians and industry professionals, ADE Next is a broad programme of talks, performances, workshops, and one-on-one meetings with experts and established music industry insiders.
DJ Mag Top 100 DJs Award Ceremony
ADE now also hosts the award ceremony for the prestigious Top 100 DJs awards, awarded by DJ Mag and chosen annual by its readers.
HDE
Branching off of ADE is HDE - the Hard Dance Event, which hosts performances and talks devoted to the harder end of the electronic music spectrum.
Music & Bits
This is a standalone event taking place at Amsterdam's arts centre De Balie. At Music & Bits you'll find talks and meet-ups for industry professionals, as well as discussion panels aimed at up-and-coming talent looking for a bit of inspiration from experts in the media and technology sectors.
Where?
Across Amsterdam. Conference events usually take place in three main venues: Felix Meritis (Keizersgracht 324) conference centre, The Dylan Hotel (Keizersgracht 384), and De Balie (Kleine Gartmanplantsoen 10).

When?
Amsterdam Dance Event 2012: 17-21 October
More Information at the official Amsterdam Dance Event website.
Comments
If you want to see a REAL dance scene - go to Berlin! Amsterdam is a backwater (a nice one though)
Reply