Where to stay in Wroclaw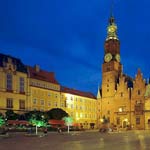 Wroclaw is very quickly becoming a popular tourist destination and a great place to invest. With this surge in popularity came a marked influx of places to stay. Whether you're interested in the five-star fab hotels or just looking to crash in Wroclaw hostels, you're sure to find something to meet your needs. What's the downside to an increase in attention? Well, let's just say that you should make your room reservations as soon as possible... To see a full list of what's on offer, go straight to our hotels directory. Sleep tight!
Looking for something specific?
See on Map
Top rated hotels in Wroclaw