Take A Tour Of Wroclaw
Wroclaw and the surrounding region of Lower Silesia, Poland, are packed full of exciting attractions waiting to be discovered by the bold adventurer. Of course it's the capital of the province, Wroclaw, that draws the greatest numbers of visitors and its rich and turbulent history have certainly endowed the city of 650,000 with plenty of sightseeing opportunities. A tour of the Old Town alone will reveal one of Europe's most resplendent squares - Wroclaw's Rynek Glowny, replete with architectural masterpiece, the Gothic and Baroque Town Hall, as well as a dozen or so magnificent churches and some alternative treasures (gnomes anyone?). Whereas a stroll across some of Wroclaw's 112 odd bridges will take you to Cathedral Island, where the twin towers of St. John's reach towards the ether. Excursions eastwards of the Old Town will take you to the fabled Raclawice Panorama - a national treasure from the Old Polish city of Lwow, and keep going and you will hit Wroclaw's Zoo (being modernised as we speak) and the UNESCO-listed Centennial Hall.
That's just the tip of the iceberg of course. Day trips and tours further afield to the surrounding countryside will reveal ruined castles, and scenic woodlands and mountains where outdoor pursuits such as horse-riding, fishing, climbing and hiking can be found, as well as the chance to recuperate on spa and wellness breaks and partake in a little agro-toursim. Wroclaw and Lower Silesia are packed full of things to do, so read on for more info...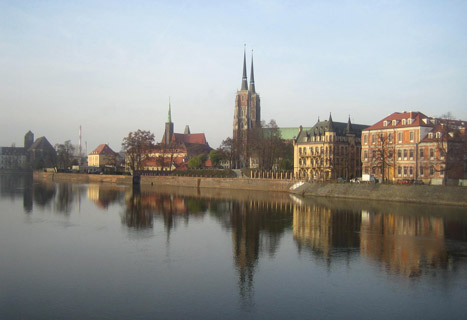 Wroclaw Sightseeing & Tours
Wroclaw Tours
The English-speaking staff of the Wroclaw Life office can help you organise private guided tours of the city with young enthusiastic and energetic tour guides. By the end of your trip you'll know more about Wroclaw than Rafal Dutkiewicz himself (that's the mayor of the city to you!).
Tel: +48 698 865 881
Email: kasia@wroclaw-life.com
Comments
Hello! I want to get your offer for a tour with English speaking driver on October 23rd to following places: Project Riese Gross Rosen Memorial and the Camp The Peace Curches Ksiaz Castle
Reply
Hi my name is Juanita Kirkpatrick. I come from Sydney Australia. I will be in Wrolac from 31 March to 5th April 2015. I am travelling alone. I am staying at Mercure Hotel. Can you arrange travel for me in groups, if you have one. Many thanks.
Reply
Hola, Some friends are coming to visit me to weekend of Sept 7th and we want to do a call tour. I think ksiaz castle would be cool. We will be 4 people. Can you please send some options and prices for a one day departing from Wroclaw? Alex
Reply
Dear Kasia Please can you tell me what guided tours you will have available 6th -10 Dec 2012. I will be bringing a party of eight and we would like to see Wroclaw and all its wonderful sights and also taste a beer or two. We would like to have a grand tour of Wroclaw and possibly a day trip outside the city. Are the tours just walking or bus and walking? I was looking at the town of Swidnicia but couldn't find much information on it except that it does have a Christmas market! Please could you let me know what dates the Christmas Market is on in Swidnicia? Also please can you give me some ideas so that we can arrange a lovely visit this Christmas? Please also let me know how much the tours would cost? We will be staying at the Mencure Panorama Hotel? Sorry about all the questions but we have to get this just right so that we can all enjoy ourselves in your wonderful city. Looking forward to hearing from you
Reply
3 of us visited Wroclaw in April 2010 and went on a fantastic tour with Wroclaw Sightseeing Tours. Our tour guide Marcin was fantastic and we had our tour tailormade to what we wanted to see. A long day and saw lots of Lower Silesia. Well worth the reasonable price.
Reply
Good tour guide is worth your money. You will never get a good idea about the city without somebody local...
Reply
I think Wroclaw needs an exciting new tour experience! Like Crazy Guide in Krakow! THere's got to be a smart entrepreneur in Wroclaw who can put this city on the tourist map!!!
Reply
I love private tours - you can get exactly what you want with your own pace! if you want a coffee break - the local guide will take you to the best local cafe, if want a drink - they always know where is the best place where locals go etc. Worth spending extra money!
Reply