Shops and shopping...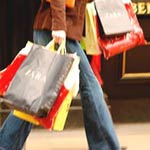 Many Eastern European cities seem to be fighting a losing battle with those dastardly plastic signs that leap out from every shop front. We're pleased to say that Vilnius's Old Town bucks the trend here. The city may not be able to match Milan or Madrid as a shopping emporium, but there are some superb national treasures to look out for. Ladies will love the linen and amber - for news of these and many more intriguing goodies, have a surf through our shopping pages.
Looking for something specific?
See on Map
Top rated shopping in Vilnius