Shops and shopping...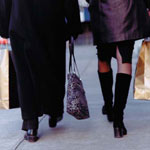 Expect serious shopaholics to start hyperventilating once they enter the extraordinary malls and upmarket boutiques in the city centre. All the big name brands are here, plus some seriously pricey local producers too. Russians like to look good and are prepared to spend top rouble for the right trinkets, so join the big spenders in the exclusive malls or head down to the vast warehouses in the suburbs to dig out some cheap electronic goods, bargain-basement DVDs and software from some less-than-reliable sources. All good fun!
Looking for something specific?
See on Map
Top rated shopping in Moscow