Shops, Malls, and Markets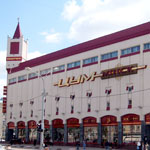 With the average income in Belarus significantly lower than countries in Western Europe, luxury shops and stylish boutiques are few and far between in Minsk. But that doesn't mean there's nowhere interesting to leave your rubles - unique handmade crafts can be found in markets and shops across the city, and there are several fashionable stores here that you wouldn't find in western cities. In general, expensive items are priced quite a bit higher here, however, the opposite is also true - simple items from practical clothes to simple accessories are incredibly cheap. And if you're truly on a tight budget, don't forget - window shopping is always free!
Looking for something specific?
See on Map
Top rated shopping in Minsk