Gdansk Streets
Mariacka Street
Piwna Street and Sw. Ducha flank St Mary's Church, but if you go directly behind this magnificent cathedral you'll find yourself on the magical Mariacka Street, greeted by St. Mary's Gate, which opens out onto the Motlawa. Although the street was a pile of rubble after the Second World War, it has since been faithfully reconstructed in its original Gothic style.
There are excellent antique and jewellery shops, as well as a few nice pubs and cafs, but what is most attractive about this hidden diamond is the old world atmosphere. The street is cobbled and the nearly all of the dignified buildings have decorative porches which extend out into the street and create a narrow, intimate feel. These porches were reconstructed from the original stone and are engraved with patrician scenes or religious symbols. Many of the vestibules also have gutters or drains which take the shape of dragons, fish, or gargoyles spewing forth water. The most unique and symbolic architecture can be found here so make sure you take some time away from the Royal Route and discover this place.
During the day you can find the amber shops and silver stores in full swing, but Mariacka street looks best at night, when its shrouded in mystery and the lanterns give it a ghostly feel. If you see it by day, make sure to come back once its completely dark, because it's a whole different place!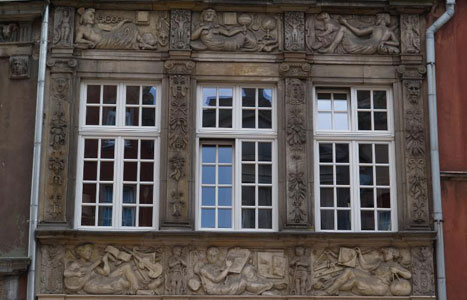 Piwna Street
Parallel to Dluga street runs Ulica Piwna. St. Mary's Church dominates the street, which begins at the old Arsenal. The Arsenal was built by Antoni van Obberghen and although the architecture is meant to resemble the houses and apartments of the nearby streets, the building is covered in militaristic sculpture. Soldiers, weapons, exploding grenades and, most notably, the figure of Athens betray the purpose of this armoury.
Once named Ulica Jopejska, Piwna Street was home to the Jopejska brewery and a number of other shops. Many businesses catering to residents of the city, rather than tourists, are located on this street, giving the place a functionality and 'normal' look lacking on most of the other streets here. If you are looking for a high street shop or food mart, then Piwna is the place to be, but if it's romance or excitement you seek, then perhaps it's best to stick to the Royal Route or ul. Mariacka!
Dluga Street
Dluga street is a large part of the storied Royal Route here in Gdansk. Technically speaking, Dluga extends from the Golden Gate down to the Town Hall, where it becomes Dlugi Targ. There are three famous houses on Dluga, which have been restored to their pre-war glory and are on display: The Uphagen House, the Ferber House, and Lion Court. Built in centuries past, these places housed city councillors, mayors, and the scientific elite, respectively. Today, the Uphagen House is home to the Museum of Townhouse Interiors, so if you want to know what's behind these beautiful facades, then be sure to take a peek in the Uphagen in particular!
Of course there's also the plethora of shops, restaurants, cafes, you would expect on such a famous street, and, in the summer, street venders and performers add extra vitality. For tourists there is an Information Office, and a Post Office where much of the staff speaks English or German. Dluga street is also a good place to kick off an evening out on the town, as nearly every restaurant has outdoor seating and there is always a pub just around the corner!
Comments
Jess from United Kingdom Reply Aug 21st, 2013
It was a gorgeous town with old houses that are unmissable. The church, river and cafe kamiencia are definitely worth a visit. BUT having said that there are very few boutiques in this area as claimed above. On mariacka street there are so many amber shops while dluga street has few stalls and is mostly small cafes.
a. samuels from United States Reply Jul 15th, 2012
Gdansk is really the Hanseatic Free City of Danzig, stolen by the Poles at the end of WW2. When reporting on a city, tell the whole truth!
Jake from United Kingdom Feb 28th, 2013
Hmmmm. Stolen from whom,exactly?
Sihi from Estonia Reply Sep 22nd, 2009
Gdansk is fantastic. The most beautiful city on Baltic sea. I really enjoyed Gdansk.
Marie from United States Reply Jun 21st, 2009
Gdansk was well worth the visit. The Solidarity Museum is fascinating! Lots of films and interactive displays. The old town is beautiful, although a little like Disney world. Wonderful to enjoy the cafes and watch the boats go by.
Gerr from Italy Reply May 10th, 2009
Agree with you. A nice place to visit.
Trader P from United Kingdom Reply Oct 16th, 2008
Old Town is a most beautiful part of Gdansk. The architecture is fascinating and restoration is being carried out at an unhurried caring and thoughtful pace. The polish people are so unwelcoming and very genuine (although they do like to haggle for hours on the market;) Old Town is very safe area where you can wonder anywhere without fear. One of my favorite City's in the World