Chills, Spills and Thrills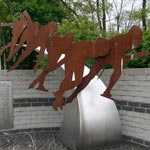 Eindhoven likes to have fun, whether indoors or outdoors, and you will find a variety of places to do just that in the city. If the day is nice, there are plenty of parks and green spaces to check out, or you can go for a swim in the city pool. Should rain clouds threaten, Eindhoven's cinemas will keep you entertained (and one of them will keep you fed!) for hours. And for a different kind of fun, you can always try your luck in the city's many casinos. Game on!
Looking for something specific?
See on Map
Top rated entertainment in Eindhoven