Bartender! Beer Me...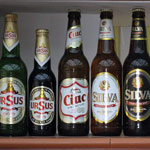 By far the best way to justify any trip to Bucharest is by taking a tour through the city's sweltering nightlife. Bucharest long ago put itself on Europe's clubbing map, luring top-deck DJs to the trendiest dance destinations (Kristal, Studio Martin, Bamboo) in town. Today, it's not only a clubber's paradise, but tempter of all tastes with everything from cocktail bars to cosy cafes, jazz clubs to Irish pubs, tea houses to tawdry taverns. Crawl through them all with our handy club and pub directory and make sure to let us know which watering holes you like the most in Romania's party capital by leaving your own reviews. Na Roc!
Looking for something specific?
See on Map
Top rated pubs in Bucharest