Ota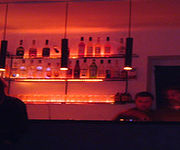 Website

Address

Dr. Staicovici 26
Local Life Bucharest is about to select candidates for Best Places awards, dedicated to rewarding and encouraging excellence in products, service and ideas. You are helping us to make the best choice.


Ota has 0 votes. Click here to see the results.


You can vote once a day for your favourite place.
Editor's review
Feel like going to a house party, but nobody feels like throwing one? Head to this underground club discreetly located in somebody's basement on a residential street near the Opera House. Whatever the legality of this candlelit, white-walled, word-of-mouth speakeasy, we only know that its filled with young people and great fun. DJs start spinning after 22:00 on weekends and mayhem inevitably ensues until the owner/bartender pulls the plug and then the blinds, revealing a blistering sunrise. Apparently on Wednesdays, the boss man serves his celebrated soup at basement-level prices. Get it before it goes mainstream.
Editor
Editor & Bucharest Local
Reviews