Shops and shopping...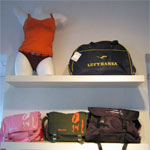 Each district of Berlin has its own commerical hub, although one of most celebrated must be the Ku'damm (Kurfurstendamm), a 4km stretch of avenue in Charlottenburg. To west Berliners the Ku'damm is THE place to go for all manner of clothes shops, department stores and of course the usual top designer outlets such as Chanel etc. Not that residents in the East aren't spoiled for choice either. Mitte is choc full of funky furnishings and clothing outlets, for those with more artistic tastes.
Looking for something specific?
See on Map
Top rated shopping in Berlin