Viennale - Vienna Film Festival
In Kathryn Bigelow's bodacious buddy movie Point Break, a band of surfers in rubber masks funds an endless summer by robbing banks. Keanu Reeves - aka Johny Utah - is assigned the task of tracking the robbers down, but the beach buddies have some tricks up their sleeve...
If your addiction is film rather than surf, then travelling the world's film festivals could be an equally entertaining way to spend the year. (Maybe that explains some of those weird fancy dress robberies that we've seen of late?) Well, we're not going to encourage you to dress up as an ex President and perform a bank heist, but if you can escape the office in October, Viennale is your chestnut.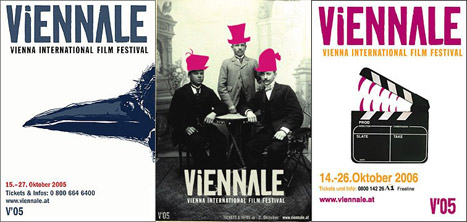 Above: Posters from previous years of the Viennale Festival
Held every October since 1960, the Viennale is one of the most established fixtures in the year's cinematic calendar. It may not have the prestige of Berlin, nor the glamour of Cannes or Venice, but for any fellow with a soft spot for film, you'd be hard-pressed not to have a fantastic time. Not only is there a feast of first class film to savour, but Vienna - one of Europe's greenest cities - turns a glorious gold in October. (And of course, once you've robbed that bank you can nip over to Warsaw and Krakow for their film festivals).
At the Viennale, celluloid confections are shown in several categories. Feature films, documentaries, short films and experimental offerings are all given their own space. There's no nail-biting competition as such, but three prizes are up for grabs. First, the FIPRESCI Award (The International Association of Film Critics Award), which tends to go to cuts by up-and-coming directors. There's also the STANDARD Readers' Jury Award, which helps to launch a film that hasn't found a foothold in the Austrian market. Last but not least is the Vienna Film Prize. Viennale may be an international film festival, but it's also a superb stage for local talent. Thus the Vienna Film Prize goes to an outstanding Austrian feature or documentary film, and there's a 7000 Euro bonus to boot.
Besides the main screenings, Viennale plays host to a cornucopia of complementary events. Guests of honour in recent years have included Lauren Bacall, Jane Birkin and Jane Fonda, and special tribute sections are organised to tie in. On a more general note, Vienna's cinemas dig deep into their archives so as to dish up some classic fare in the festival's Retro section.
Traditionally, four or five cinemas join forces to put on the celluloid celebration that is Viennale. These normally include Urania, Gartenbaukino, Metro-kino and Stadtkino. Discussions with actors and directors often follow screenings.
Comments