Christmas Markets In Vienna
Christmas always seems most at home in two places. First, Charles Dickens' London, with its plump geese, mulled wine, Christmas carols and mischievous scallywags slinging snowballs. But above all, it's Central Europe that wins the prize. Let's face it, the Central Europeans still know how to do Christmas. And it's not just because Mother Nature obliges with the crucial ingredient of snow. Our continental cousins have a flair for creating the yuletide aura - it's less about plastic decorations, terrible pop songs or Spice Girls switching on strings of Christmas lights, and more about old-fashioned magic.
Of the classic Christmas market towns and cities, Nuremberg, Dresden and Wurzberg regularly draw plaudits. But more often than not it's Vienna that comes out on top. Granted, the Viennese sometimes skate into bonkers territory in their attempts to keep things old school (the ban on Father Christmas bordered on farce). But generally speaking, Vienna gets our vote for traditional Christmas atmosphere.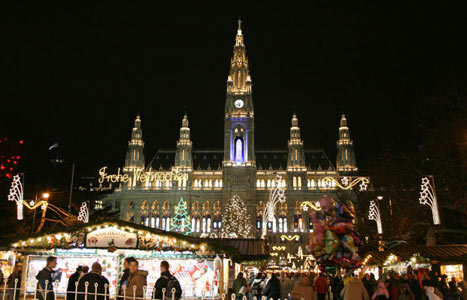 Above: The main Christmas Market in front of the Rathaus
As November peters out, markets pop up at various points across the city. Most famous is the marvel in front of the Rathaus. Yet besides this main attraction, there are much-loved markets at Schonbrunn Palace, the Belvedere and above all in the quaint district of Spittelberg.
Alongside the markets themselves (Christkindlmarkte - more of which below), Vienna has several other aces to play on the yuletide front. Age-old cafes offer tempting pit-stops between present-hunting (witness the legendary window displays at the Demel Konditorei). What's more, the city is rather like a gigantic Christmas cake itself. Last but not least, if your main aim is to secure presents, you're spoilt for choice in Wien. Besides the trusty stalls, Vienna boasts shops with genuine individuality.

The Rathaus Market
As mentioned, Vienna's main Christmas market appears at the foot of the Rathaus (City Hall). Wooden stalls form a miniature yuletide town in itself, and there are plenty of chestnut and gluhwien (mulled wine) options to warm the cockles. The Rathaus park next door is transformed into a winter wonderland, with a slew of attractions for little monsters.
Spittelberg
Arguably the most beguiling of the Christkindlmarkte, this Christmas bazaar lines the streets of this pretty district (unlike other markets which focus on major public spaces). The quality of the goodies themselves is also a notch up, with the main target audience here being grown-ups. The Spittelberg district has plenty of its own diversions, as it's currently in the throes of an arty renaissance.
Schonbrunn
The former summer palace of the Habsburgs is long-established as a venue for a Christmas market. The stalls spread out across the main forecourt, complemented by a mighty Christmas tree. It all makes for a fine spectacle, and of course, you can combine it with a trip to the museum or the marvellous zoo.
The Belvedere
The Belvedere Palace and Gardens offer a magical view over Vienna at any time of year, but youngsters are sure to be doubly impressed in December. An old-fashioned carousel joins the wooden stalls, and there are more presents to be perused inside the palace - this is one of the world's finest museums of Austrian art, with Klimt galore.
Comments
@Jane Niccols I too am British and live in Vienna. Check out www.wien.at, there is a list of all the Christmas markets with addresses and opening times. http://www.wien.gv.at/rk/msg/2010/11/09002.html
Reply
hi can you pls someone tells me from where i can buy some christmas decorations in Vienna on the following dates 26, 27, 29 December 09. Thanks very much
Reply
I'm British but have lived in Vienna for the past six years so have been to all the Christmas markets here. This year I'm pulling together a list for friends of markets and opening times - it's extremely difficult as there is not one website which gives all that information. I've just spent 40 minutes on line and still don't have everything I need. What on earth are the Austrian tourist board doing!!!! Do they not realise how important a good website for this enormous tourist attraction is?
Reply
Thanks for the tips. I've always wanted to see Vienna's Christmas markets. This Christmas it will finally happen!!!
Reply