The 5 Best Restaurants in Poznan

Poznan might not get as much attention for its gastronomic genius as some of the bigger cities, but we think it's about time that changed! With so much flavour in these streets, it doesn't take much scratching of the surface to discover some true food magic. From colourful mezze platters and the freshest pizza to award-winning chefs and royal tenements, we've spent a wonderful time eating and drinking everything in Poznan, down to Lake Malta itself (not recommended). All this just to be here now, in this article, guiding you to the tastiest restaurants in town. So, you better go and visit them or else.


---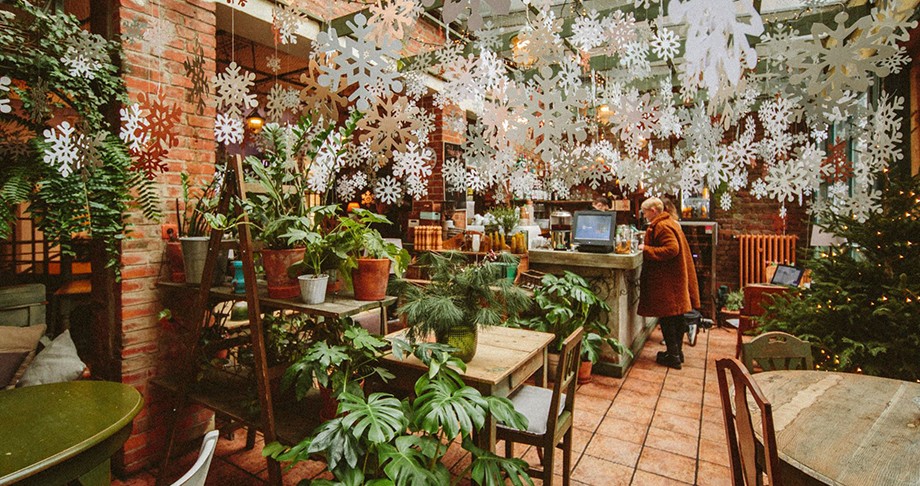 Zielona Weranda
Oh my god, the interior is quite literally LUSH! We're not exaggerating when we say it's like a superabundant greenhouse. As if that weren't enough beauty and nature love already — Zielona's creative keepers celebrate the seasons by adorning the cafe with pretty decorations. For winter, the ceiling is hung with hundreds of gorgeous delicate hand-cut snowflakes; colourful pająki (traditional Polish paper flower chandeliers) in the spring. Throughout autumn, velvet coloured paper geese glide between pumpkin-like rice paper lamps.
Such a magical and relaxing atmosphere, this sprawling garden (it even flows outdoors into a pretty courtyard) speaks for itself. Zielona Weranda have well earned their name and there's a tip here for any budding restauranteurs out there. How to improve your place? Just add more plants! You can taste the fresh serenity of these surroundings in every bite. With house-baked brioches, free range eggs and a glorious selection of croissant sandwiches — breakfast is a must. Let's just say that actually, every mealtime here is actually a must. The menu is as gorgeous as the interior. Can we please live in this eden?
Ignacego Paderewskiego 7 // +48 61 851 32 90
Website // Facebook // Instagram

---

Autentyk. Kuchnia i ludzie.
With Gault & Millau 'Chef of Tomorrow' award winner Ernest Jagodziński at the helm, Autentyk is a must-visit on our list of favourite Poznan eateries. In his own words, he views cooking as "a combination of philosophy, psychology, and fun (...) with a child's spontaneity of discovering new tastes and shapes", shunning menus as to allow his dishes to create themselves in the unique atmosphere of the moment. This speaks well for his intuitive nature — to be a truly great chef, the ability to listen to the silent well of divinity is an absolute necessity.
Practically, on Authentic. Kitchen & people's beautiful wooden tables, you will find a seasonally changing menu of Polish & international flavours cultivated by Jagodziński's inspirations. From Deer Tartare w/ Nigella, Beet & Pickles to Risotto w/ Pumpkin, Shrips, Mascarpone & Chilli and from Arctic Char, Crayfish, Vegetables & Bisque to Beef Rib, Caramelized Carrot, Mushrooms & Potato - these dishes are portayed with a deceptive simplicity when they should be dotted with synonyms for 'delicious', 'amazing', 'special'. Although, even then they still have to be tasted to be truly felt and understood. Book a table. Now.
Grunwaldzka 248 // +48 666 400 419
Website // Facebook // Instagram


---

Ratuszova
An actual masterpiece, you simply must come and admire these magnificent frescos. Voluptuous eaves and arches hug the story-filled stone walls and fantastical beasts peek through mythical forests in the elaborately painted murals as elegantly dressed tables evoke a refined atmosphere for gourmet feasting. We don't have enough space to tell you about the lengthy and fascinating history of this gorgeous market square tenement house (one of the first buildings in Poznan) but dining in Ratuszova is akin to enjoying a meal in an actual palace. Suffice it to say that at one point a King lived here and ever since then it's had a right royal reputation for divine delights.
The expertly plated dishes you can expect to find on the menu are imbued with traditional Polish elegance. Appetizers run from the most delicious fish in the herring family, Matjas, through to boletus mushrooms served with AMBER. The accomplished boards of traditional Polish long ripened cheeses, meats & chutneys are an affair to remember. Main courses include notable vegetarian dishes such as potato dumplings with mushroom and truffle, alongside a veritable farm of treasured traditional meat dishes, all exquisitely composed. Is your mouth watering yet?
Stary Rynek 55 // +48 618 510 513
Website // Facebook // Instagram


---

Suszone Pomidory
Pure class, this fine establishment has earned it's spot on our list because the people here actually, really and truly care about creating the best possible food experience they can. You can read on every restaurant's website about their 'passionate chefs and high-quality ingredients' but let's be real. It shouldn't be rare for those words to mean anything and we shouldn't have to so heavily emphasize that for this fabulous Italian restaurant it's true... but that's the world we live in and exactly why we so are super grateful to Suszone Pomidory for keeping our faith in food intact.
Suszone Pomidory specialize in the two best foods in the worlds: pizza and pasta. To imbue these dishes with appropriate Italian love they have their own garden in which they carefully grow their well-nurtured plants. They have their own smokehouse in which they cure their own carefully selected meat. They make all their own sauces by hand and bake all their own cakes in-house. All this to ensure a moment of oblivion in the flavours and aromas of their kitchen. Add a list of gorgeous wines perfectly matched to each mood and we're in a satisfied food coma.
Św. Czesława 13 // +48 530 838 100
Website // Facebook //Instagram


---

Falla
Once upon a time, some Poznanian friends set up a small bistro serving Middle Eastern cuisine. Kings and peasants alike fell in love with their food and they were beloved by their city. Today they have a handful of successful restaurants spread across Poland… where the chefs are unicorns who use fresh ingredients delivered by magic carpet. Falla is a modern Poznań fairy tale.
The super clean, classy and minimalistic Scandinavian interior might make you wonder whether there are really any unicorns in the kitchen because it seems far too trendy for that, but after tasting the food you'll know it was made by magic hooves. On their sweetly illustrated menu you'll find a bountiful array of colourful options to satisfy every level of hunger. Three kinds shakshuka (served piping hot in it's pan), loads of different mezze choices, unique falafel wraps (there's a hemp one, a kimchi one and even one with nori and mascarpone!), special hummus plates with super addictive flavours (chipotle, carrot & honey, coriander & lemon), plus basically any alcoholic or non-alcoholic drink you could desire. We wish we could eat here for 1001 Arabian nights.
Wawrzyniaka 19 // +48 576 950 473
Facebook//Instagram


---
Did we leave out something delicious? Tell us about your favourite places in the comments below!
Comments