Take a Tour
Certain neighborhoods in Miami are ideal for strolling around at your own pace. Yet with such a big city, don't be shy if you need some help getting to know it. In fact, some of the local tours will give you a unique insider look without all the work.Food tours and bike tours are particularly popular, because they truly give visitors a sense of local flavor and culture.
Miami's hop on hop off bus, Big Bus Tours, operates throughout the city and will come in handy for those who want to see a lot without renting a car. Prices start at $39 per ticket for a 24 hour pass. Book online in advance for discounts. Duck Tours take a different approach, with a high-energy 90 minute "show" on South Beach or Downtown Miami. Tickets start at $32 and discounts are available for seniors and children.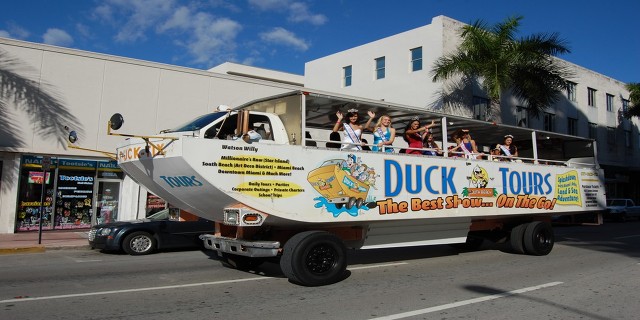 Food tours in Miami are particularly popular, given the unique mix of cuisine with such a strong Latin influence. Miami Culinary Tours run tours on South Beach, in Wynwood and Little Havana, which have 5-8 stops each and offer a great array of flavors. The Miami Design Preservation League offers a $20 Art Deco District walking tour in South Beach, which is a great opportunity to learn about the neighborhood's history and design. Tours take place daily and discounts are available for seniors.
Biking is a great way to see the city, especially if you can enjoy the ride while someone else leads the way. Bike & Roll Miami rents bikes and also offers tours throughout the year in Miami Beach and Key Biscayne. The company also offers combined bike & boat or bike & kayak tours for ultimate outdoorsy visitors.
Comments