Miami's Sports Scene
Miami is truly a sports city. Between the Heat, Dolphins, Marlins, and Panthers (among others), there is no shortage of sports pride in Miami. The best ticket venues for these events can be found on Ticketmaster.com. Expert Miami sports bloggers, including MIA Sports Guy are great resources for up-to-date scores and insider information. Below are a few of the main teams that locals root for as well as the venues that they play at.
Dan Marino might be the best known Dolphin, but the Miami Dolphins hold their own as a strong team since it was founded in 1966. Fans flock to games from all over the state during the September-February season. Their turf - Sun Life Stadium - is located in the northern part of Miami.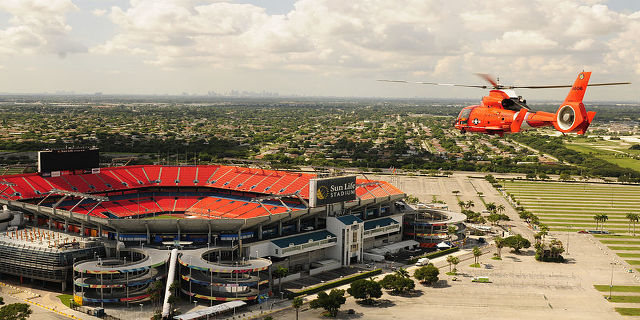 The Miami Marlins (formerly the Florida Marlins), Miami's baseball team, play at Marlins Ballpark in Little Havana the site of the old Orange Bowl. The hot April-October season is now much more pleasant for fans with the state-of-the-art air-conditioned stadium, which has a retractable roof.
Miami Heat fans have always been loyal to their team, but this was amplified when LeBron James was recruited. Games take place in the American Airlines Arena in Downtown Miami, and the season typically runs from October-March.
College sports are also a popular Miami pastime, with the most loved teams belonging to the University of Miami Hurricanes. A comprehensive listing of teams, games, and schedules can be found on their website. A few other teams that fans flock to see are the state's ice hockey team - the Florida Panthers - who play from October through April during Miami's "winter". NASCAR and Jai-Alai are two other niche sports locally, and tickets can also be purchased on Ticketmaster.
Comments