Miami Food Trucks
Miami isn't the only city in the states that latched on to the food truck trend, but it's safe to say that it has become a shining beacon of a vibrant culinary movement. In fact, the city is so loyal to the movement that an unaffiliated website, Miami Food Trucks, provides the latest information on what's going on around the city.
Historically, food trucks have provided low-cost, fast food in on-the-go scenarios: think ice cream trucks, carnivals, sporting events, construction sites. Then, the tech revolution and a culinary-oriented audience created a ripe opportunity for food trucks to evolve into a much more sophisticated dining experience. Most trucks now have Twitter and Facebook accounts so followers can track their location and menus. You can still find old school, bare bones trucks, particularly focused on Cuban cuisine in Miami, whose menus don't contain the words fusion or organic. But for those who want to taste a trendy phenomenon, here are a few top-rated trucks to follow.
Be sure to utilize the Truck Locator feature on the Miami Food Trucks website for updated tracking information.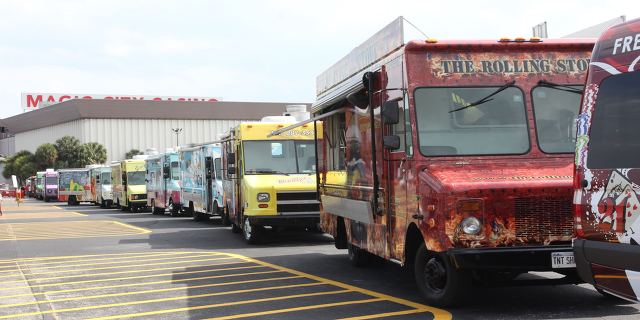 Voted Best Food Truck in Miami, Ms. Cheezious puts a twist on a classic cheesy favorite: the grilled cheese. No longer is this family favorite simply cheese and bread. Some of the most interesting specials include the Goat Cheese & Prosciutto on marble rye, Crabby Cheese Melt on sourdough and the Sweet Meltdown, with ricotta and orange marmalade on Texas toast served with chocolate dipping sauce. Tomato soup available. Location of the two trucks can be found on the website, Twitter, and Facebook.
The owner/chef of Sakaya Kitchen, a local Asian favorite, launched this truck with the same philosophy as the restaurant: top-notch ingredients fro and made from scratch goodness. It's only natural that they'd use recycled and biodegradable materials and corn-made cups. For less than $10, try the Cracklin' Herb Duck Sandwich, "Dae Ji" Spicy Pork Croquetas, or assortment of 2-per-order sliders, tacos, rolls, and buns. Dim Ssäm a spot among the top five Asian food trucks in America by Details magazine. Follow them on Twitter and Facebook.
For those with a sweet tooth, Dolci Peccati is a must, especially in the Miami heat. The specialty is gelato, and there is no shortage of 47 flavors, including simple favorites and twists such as banana peanut butter and cinnamon, sweet potato with marshmallow and coconut, and salted vanilla, among others. Fruity sorbet flavors are also available: can you get any more Miami than guava mojito?! But it doesn't stop there: popsicles, Dolci floats, and gelato sandwiches are just a few items guaranteed to satisfy a sweet tooth. Follow them on Twitter and Facebook.
Comments