London on a Budget
Free and cheap are not exactly the first things that come to mind when many people think of London, a city well known for its rather pricey hotels, restaurants, and entertainment. But on the other hand, London's packed full of affordable and budget-friendly things to do, and even some of its most popular attractions are free.
Galleries and Museums
Demonstrating its commitment to public accessibility to culture, history, and science, the majority of London's magnificent museums and galleries offer free entry to all. Some exhibitions and extras may be paid, but entry to permanent collections at the Natural History Museum, British Museum, the National Gallery, the Tate Modern, the Science Museum, and the Victoria & Albert Museum are free of charge. Most museums also offer a selection of free talks, film screenings, special events, and tours. Commercial galleries also offer free entry, and it's well worth looking up local listings for exhibitions by some of the world's most exciting artists.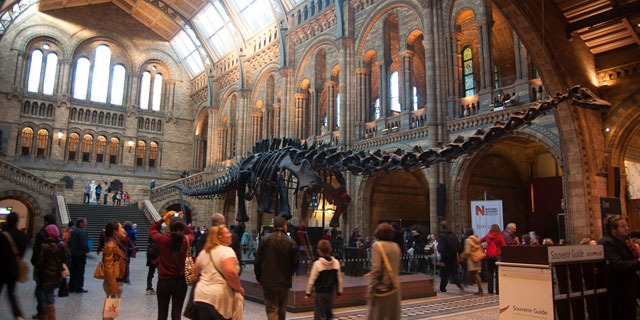 Parks
If the weather is co-operating during your stay in London, you could easily spend days in the city's parks picnicking and relaxing on a deck chair. All of the Royal Parks, including Hyde Park, St. James's Park, and Richmond Park, are fun and fascinating places with free entry all year round.
Transport
Travelling smart around London will save you some serious cash – not to mention the hassle of rush hour on the tube. The most important money-saving tip is to buy and use an Oyster card (a contactless card used on all public transportation) as soon as possible – paying with cash costs significantly more. Also, try to take the bus rather than the Underground – you might be subjected to some traffic jams at peak times but if you're not in a rush this option is much cheaper and less stressful than taking the tube.
Walking and cycling are also surprisingly good options in London, and popular tourist attractions are generally clustered into small areas. For cheap and easy bike rental, look for the blue Boris bikes (officially known as Barclays Cycle Hire), which can be picked up and dropped off at locations around the centre of London.
Films & Music
As you'd expect, independent and arthouse cinemas in London offer a fantastic selection of both mainstream and independent cinema on the cheap. The Prince Charles Cinema offers low prices, fantastic film-buff-friendly listings, and the prestige of being located right on Leicester Square, the home of red carpet film premieres. Some cultural institutions also offer a free film series, such as the Korean Cultural Centre's free weekly screenings.
Many large venues such as the Barbican offer the occasional free concert, but it's in the smaller, independent concert halls and clubs where the majority of quality, free concerts take place. Check local listings for up-to-date info, and head to less ritzy parts of town like east and south London for cheap drinks and genuine London vibes.
Window Shopping
Sure, window shopping can be a little less exhilarating than splurging, but with so many incredible independent shops, department stores, and markets in London, simply browsing the incredible array of wares is an exciting pursuit in and of itself. For an almost museum-like experience, stop by Harrods, Selfridges, or Liberty, where luxury, fashion, and design, are worshipped to spectacular levels. London's many markets are a fabulous place to explore more down-to-earth offerings, from second hand and DIY fashion at Camden Market, to the veritable cornucopia of culinary delights at Borough Market. Market prices are also typically very affordable, so even the most budget-conscious can allow themselves a little shopping indulgence!
Comments