East London
A diverse mixture of derelict warehouse spaces, funky modern lofts, and cosy residential areas, East London has transformed itself in recent years into one of the coolest part of town.
Since its early days, the East End was one of London's poorest areas, and throughout history suffered through slums, the terror of Jack the Ripper, the bombings of the Blitz, and a less-than-pretty post-war reconstruction.
In the last few decades, artists seeking cheap rent "discovered" East London, and as the case often is – the money and rejuvenation followed swiftly behind them. Much of the East End does remain rather bleak, but pockets of revitalized spaces do exist amongst the tower blocks – and they are well worth seeking out.
These days, East London is synonymous with edgy galleries, hip nightlife, colourful markets, and innovative restaurants. The boroughs of Hackney and Tower Hamlets are home to the most interesting areas: Spitalfields, Shoreditch, Hoxton, London Fields, Whitechapel, Dalston, and Stoke Newington.
Here are some of our tips for the top destinations for shopping, sightseeing, dining, and nightlife in the East End.
Spitalfields
Situated on the eastern edge of the city's financial hub of the City, much of Spitalfields is remarkably sleek and modern compared to the rest of the East End. There's plenty of shopping to be had here, particularly at Spitalfields Market. A few minutes east will take you to Brick Lane, the buzzing home to some fantastic vintage shops, cafes, and clubs (mostly around its northern end). You'll also find the iconic bagel shops of East London here, such as Brick Lane Beigel Bake. On Sundays the street is taken over by the Truman Markets in the Old Truman Brewery, and Brick Lane market, which specializes in second hand clothes and bric-a-brac.
Whitechapel
Apart from a handful of pubs and clubs (such as the Rhythm Factory), Whitechapel is best known for two things: Jack the Ripper and the Whitechapel Gallery. Jack the Ripper walking tours are a popular way to explore the haunts of this legendary Victorian era killer. As for the Whitechapel Gallery, look for this fantastic (and free) art gallery at 80-82 Whitechapel High Street.
Columbia Road Market
One of the prettiest street markets in East London is the Columbia Road Flower Market, established in 1869. Today, it's a wonderful place to browse the blooms and buy a few to take home. There are several lovely independent shops, cafes, and pubs nearby as well. Open on Sundays until 2pm.
Shoreditch / Hoxton
Perhaps not as edgy as it once was in its 1990s heyday, Shoreditch and neighbouring Hoxton remain real hotpots for trendy cafes, restaurants, bars, and clubs. Take a walk around Hoxton Square, Shoreditch High Street, Curtain Road, and Rivington Street and take your pick from some of the city's hottest nightlife including: XOYO, Plastic People, Old Blue Last, and Hoxton Square Bar & Kitchen. For shopping, don't miss a trip to the world's first pop-up mall, BoxPark Shoreditch. Scheduled to remain open until 2016, these reimagined shipping containers on the corner of Shoreditch High Street and Bethnal Green Road are home to fashion brands like Puma and Evisu.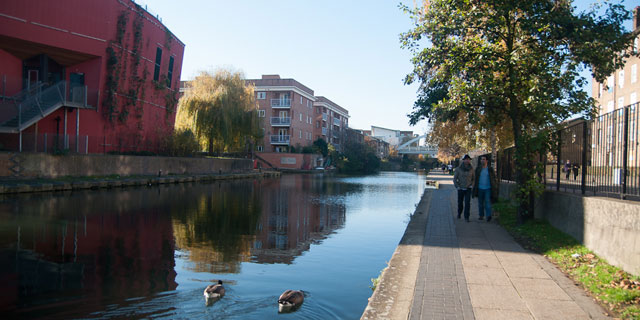 London Fields / Broadway Market
This residential pocket of Hackney, located right next to Regent's Canal, takes on old-school East London charm with a hip, artsy attitude. Main drag Broadway Market is home to a traditional pie and mash shop (F. Cooke), some fantastic pubs, and several charming shops devoted to quality books, art, and fashion. The market itself is open on Saturdays, specializing in every sort of food you can imagine from British cheese to Spanish churros and chocolate. On sunny days, nearby London Fields park is filled with hipsters and their friends and families enjoying the market's spoils.
Dalston
Named the "coolest place in Britain" by Italian Vogue, Dalston is indeed dripping with edgy charm. Despite, or perhaps because of, its rather unkempt looks, Dalston has drawn some of the cities most unusual characters. Turkish immigrants remain a large percentage of locals, but the abundance of weird and wild youth who arrived only a handful of years ago, is often what this area is best known for these days. Alongside Turkish ocakbasi restaurants stand hip bars and clubs like The Alibi, Dalston Superstore, Café Oto, Birthdays, and Ridley Road Market Bar.
Stoke Newington
It's hard to believe that just a few minutes up the road from grimy Dalston is this charming enclave, dubbed lovingly as "Stokey" by the locals. The rough-around-the-edges atmosphere of Dalston remains, but generally speaking, Stoke Newington is almost upmarket in comparison. Charming shops, cocktail bars, and some often rather pricey restaurants line pretty Church Street. Perhaps not a destination in and of itself but certainly worth a peek if you're in the area.
Comments