Authentic London Eats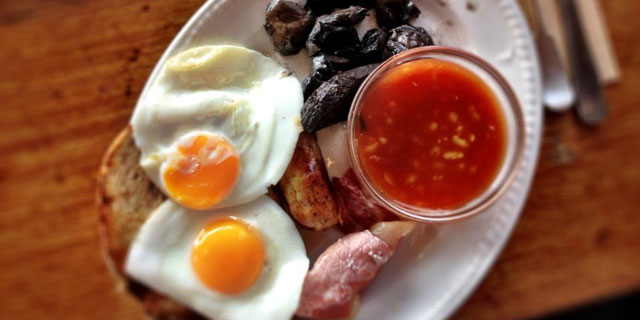 Like any properly cosmopolitan city, London has a head-spinning variety of food on offer at its countless restaurants, pubs, and cafes. Italian, Bangladeshi, or Korean, London offers everything your hungry heart could desire. But there are a few quintessentially British experiences that any self-respecting foodie should add to their London to-do lists.
In fact, the last 10 years or so have seen a huge overhaul for England's reputation as a newfound European foodie mecca. While the UK may have only once been memorable for its fish and chips, a new, proud culinary heritage has re-emerged – most visibly championed by celebrity chefs like Jamie Oliver and Nigella Lawson. A focus on simple, local ingredients like root vegetables, roast meat, and of course, real ale, has made traditional British food cooler than ever.
So while there are plenty of restaurants serving up classic British food to an impressively high standard these days, there are a few specific dishes which you simply can't leave the country without trying.
Afternoon Tea
Sure, not many English folks regularly sit at home with tiered plates of crustless cucumber sandwiches and bone china cups of tea. But this elegant ritual, which dates back to the 19th century, is an integral part of British culinary heritage. Now most commonly served in hotels, afternoon tea is typically enjoyed on weekends. Coffee and champagne often replaces the traditional milky tea, but what sets a truly wonderful Afternoon Tea apart is in fact the food. Luxurious finger foods like delicate sandwiches, pastries, cakes, and scones with clotted cream and jam are standard fare at tea salons across London. A true English indulgence!
Pie & mash
While fish and chips gets all the recognition, and fried chicken shops take up the real estate, pie and mash is the real deal when it comes to cheap London eats. This old-school East End meal was once a typical worker's dinner, but the traditional dish's popularity is unfortunately waning in modern times. The meal consists of a single serving beef pie, served with mashed potatoes and a green parsley sauce called "liquor". It's working class London through-and-through, and the best way to eat it is at traditional shops like M Manze or F Cooke at Broadway Market in East London.
Curry
It's often said that curry is Britain's true national food, and with such a deep historic connection with India, it's certainly no surprise. Following generations of immigrants from the Indian Subcontinent, London can now boast a truly wonderful selection of authentic Indian, Bangladeshi, and Pakistani restaurants. After so many years in the UK, a sort of Anglo-Indian style of cooking has emerged as well, so while a curry in London might taste a little different than one in Mumbai, it's certainly no less authentic!
Sunday Roast
One of the most beloved British meals, Sunday Roast is a tradition that required no assistance in staying vividly alive across the country. A regular appearance on the family table on Sundays, Sunday roast is typically eaten as the main meal of the day early in the afternoon. The star of the show is, unsurprisingly, roast meat – generally beef or lamb (though chicken and pork are popular too), and a heaping side of vegetables, including crispy roast potatoes, and hearty veggies like cabbage, carrots, brusselsprouts, roast parsnips, or peas. It all sounds a bit like an American Christmas dinner, until you reach the Yorkshire puddings that is. These puffy, savoury pastries act as little cups to help hold all the gravy which is poured generously over the roast. For a taste of a traditional Sunday Roast, check the menu of a local, reputable pub. Top it all off with a real ale and you'll be ready to dive back into the madness of London!
Comments