St Dominic's Fair
The year was 1260 AD. The details are hazy, but I think it was a Saturday. To keep from falling asleep during the evening Mass, Pope Alexander IV was entertaining the idea of having a festival in the Port City of Gdansk. A festival that would allow merchants from all over the world to come together and trade commodities, culture, ideas and of course, stories about sea monsters that would eat any ship sailing west from Spain. The spectacular result was St. Dominic's Fair.
With over 740 years of tradition behind it, the fair has become the largest open-air cultural and commercial event in Poland and one of the largest in all Europe. Over the course of 23 days, more than a thousand merchants will set up residency in Gdansk, and every day more than 70,000 people will descend upon the city, a number which doubles on the weekends.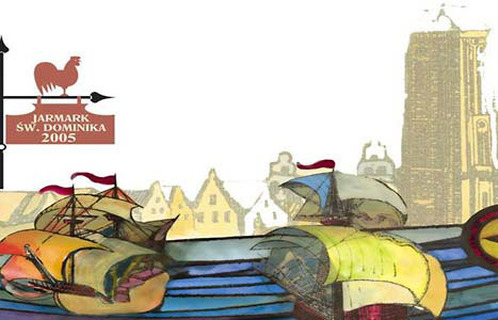 Wondering if you should come join the fun? Well don't rush into anything. First, let us tell you about some of the cultural events and concerts!
There will be brass bands, folk concerts, rock concerts, electronic concerts, and organ concerts. You will not have to endure even a minute without music filling your ears and moving your feet. Make sure to check out the Music at the Monuments of Old Gdansk series and be sure to put your ears within range of the "Gdansk Music Summer" shows.
There will be theatre and drama and actors and actresses galore. Bill Shakespeare will of course be represented and whether it's a guy doing monologues in the middle of the street, or a troop of actors performing in one of the many theatres, you're sure to find yourself giving more than a few standing ovations.
Famous all year and all across the globe for its amber craftsmen, Gdansk will be showcasing their talent and their creativity during Amber day, and if you're looking to decorate the neck of a special someone, be sure to pick up an amber necklace from one of the many amber vendors.
Hmmm... "theatre and necklaces" sounds like maybe the ugly half of humanity is going to be a little bored. Don't worry guys, there are going to be plenty of sporting events, including The International Dominican Dragon Boat Rally, The International St Dominic Race, Motor Boat Races, and the Gdansk Canoe Festival. Also in the works is a Chivalry Tournament sure to inspire the dragon slaying, princess rescuing hero in all of us. Besides, the beer will be flowing like wine so don't worry about having to endure any opera in a complete and unaltered state of mind.
Fireworks, games, parades and pageants, St. Dominic's has it all. Bring the kids, bring Grandma, bring your friends, and bring yourself. Bring that youthful exuberance that only a fair in the summer can really bring out! The Fair is an interactive experience, so don't hesitate to join in the fun, haggle with the merchants, or maybe even bring that old Abba record and dance in the streets. We'll be there to throw some change in your hat, or if your blocking the stage where a real dancer is performing, we'll throw some cabbage your way instead of coinage.
Come one, come all to St. Dominic's Fair. I don't want to think about what Pope Alexander IV would say if you didn't come, but I'm sure people were a lot less forgiving about things in 1260.
Comments