Bay of Gdansk Days
The shallow waters of the Baltic which lap up against the shores of Poland from Krynica Morska, past Gdansk, and all the way to Hel, is collectively called the Bay of Gdansk. Known worldwide for its windsurfing waters, the Bay plays host to a festival every year, known rather obtusely as the Bay of Gdansk Days! Sport, culture, and recreational activities can be found in abundance all along the bay towards the start of September.
The opening of the festival usually takes place in Gdansk on the Motlawa river, in the heart of the city, and from there on, you'll be immersed in the action, but hopefully not in the water! People tell us there aren't any sharks here, but we'd never rule out the first documented case of a Great White attack in a Polish River - so we'll be waving to you from the shore as you race pass in one of the many boats that will be gliding along the glassy waters.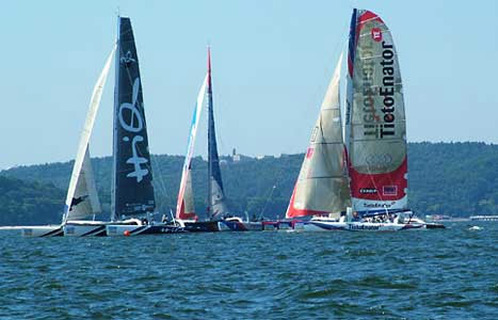 In the Sporting category of the festival, there will be motorboat races, swimming races, regattas of every type, windsurfing, and even some beach volleyball for those who like running in sand. If you want, just email us at Gdansk Life and we can play some Chariots of Fire music for you, if you like running in sand, but have some strange aversion to volleyball. We are here for you always!
Meanwhile varied cultural events that have taken place during previous festivals include the likes of foreign culture fairs in Gdansk's Old Town, The Festival of Sacred Music, and tons of exhibitions of art relating to sailing, the ocean, and sailors!
Finally, there are always some lighthearted recreational events accompanying the event, such as the Festival of Cod! We know how much you like cod, so put on that Boston Red Sox hat and be there! Other things to do include diving, fishing, and an Old-Timers rally! Whatever and wherever you end up during the Bay of Gdansk Days, just put your feet in the water and enjoy the ocean for all its majesty and saltiness!
Comments
I plan to be in Poland in September. You did not say in the article when the events of Bay of Gdansk Days begins.
Reply