Discover India in Eindhoven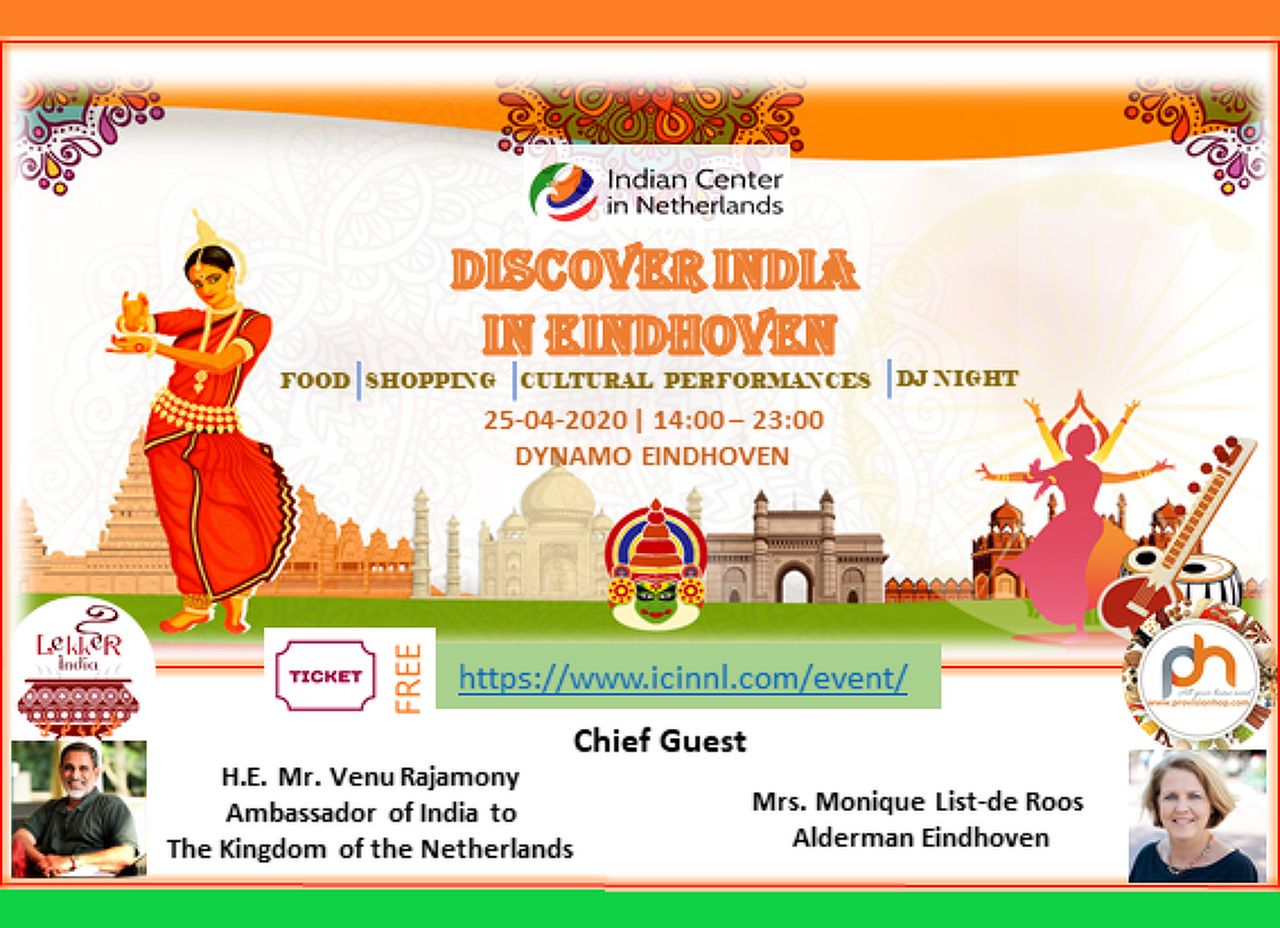 Indian Center in Netherlands present
' Discover India in Eindhoven ' 2020
In Association with ProvisionHop
Discover India In Eindhoven 3rd Edition is back with more Fun / Bigger & Better
After the great success in last edition we are back with more fun / music / dance and many varieties of Indian foods in this year block your date on 25th April 2019
This year new add on for Event Fashion Show (Indian Costumes) & Indian DJ Night (First Time in Eindhoven)
'Discover India in Eindhoven' Event bring Indians together to showcase the uniqueness of Indian culture.
• Facilitates interaction among Indians, international and locals.
• Exhibits Indian fine arts and culture
• Strengthens collaboration among Indian groups
Chief Guest :
H.E. Mr. Venu Rajamony, Ambassador of India to The Kingdom of the Netherlands
Mrs. Monique List-de Roos - Alderman for mobility, culture and design, city center and city marketing Eindhoven
Event overview
• Event: Discover India in Eindhoven
• Date: 25th April 2020
• Location: Dynamo Concert Hall,Catharinaplein 21, 5611DE Eindhoven, Noord-Brabant
• Event Time: 15:00 to 22:00
• Dress Code: Ethnic wear.
• 15:00 Event Starts with official Welcome.
• 15:30 Culture program starts (Dance / Music / Skit / Fashion Show etc)
• 19:00 Cultural Event Closing
• 20:30 Indian DJ Night (Paid Ticket - 10 Euro Per Person)
• Food Stalls with different types of Indian cuisine would be available from 15:00 till 22:30
Come, Enjoy,... Indian Food, Indian Cultural Programs and Indian atmosphere in Eindhoven.