Get a Feel for the city!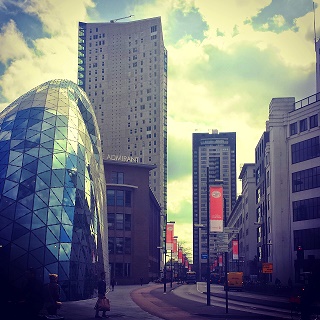 In this article we've randomly selected a couple of interesting areas that you might want to find out more about. Because Eindhoven has so much to offer, we couldn't cover everything...
Stratum
Stratum is the former agricultural part of Eindhoven and now a large residential area. The current DAF factory grounds are located here, while the DAF Museum is located in the city centre, and there is also Parktheater which has a varied offering of shows. On the border of Stratum you can find the Genneper parken and adjoining Stadswandelpark which forms a spacious green area. Another very interesting part of Stratum is Stratumseind, THE party area of Eindhoven with a 225-metre street offering over 50 bars and cafés from which to choose. Stratumseind is ideal for all ages but most of the party-goers are aged between 18 and 30. The bars and cafés are open from Thursday to Sunday, and after partying you can enjoy a tasty kebab.
Markt
Markt lies in the heart of the city centre and is the place to be in the summer. During the day you can enjoy a nice cup of coffee or a delicious meal while you people-watch, and over the weekend the bars become popular party spots for fun-lovers aged 25 to 50.
Wilhelminaplein
This square is named after Queen Wilhelmina and was built to mark her visit on 20th August, 1904. Here you will find mostly "brown" pubs, a Dutch term for a tavern-type of pub, but during summer it is an incredibly vibrant place with lots of live music! Take a seat in the sun with a glass of beer or wine and enjoy the music and cheerful atmosphere.
De Bergen
Locals call this street the 'PC Hooftstraat of Eindhoven', because it's where you'll find all the expensive cars. It's the perfect location to have a chic lunch, dinner or drinks, even if you're not one of the posh people of Eindhoven!
Dommelstraat & Stationsplein
Located near the train station, this will probably be one of the first areas you encounter. You will find a large cinema here and a little bit further down Dommelstraat you will find Effenaar where you can see concerts and shows. Dommelstraat is THE place to have dinner and, with so many restaurants on one street, it's always difficult to make a decision. Italian, Spanish, English, Mexican, you name it, it's here!
Woensel
Woensel might be a mainly residential area, but it has even more to offer than that. You can visit WoensXL retail outlet and the large sporting complex where all sorts of sports are on offer, including bowling, skiing, tennis and hockey, and Catharina Ziekenhuis is there if you get sick.
Strijp
This is where the old Philips factories used to be located, but now it's rapidly developing into a unique and vibrant part of the city! The buildings are still the original factory buildings, but they have been transformed into cool residences, exclusive shops and other one-of-a-kind establishments where you can enjoy all sorts of activities. Definitely worth a visit!
Comments