The Eindhoven Coffee Experience
With Dutch coffee consumption among the highest in the world, it's no surprise that this caffeinated commodity is easily available throughout the city of Eindhoven. But with so much choice, it's hard to know where to start. This quick coffee guide is here to help you find your ideal coffee-selling establishment, however you may take your coffee.
Nothing middle-of-the-road in the middle of Eindhoven
Ideally-located by the train station, the Coffeelab is a fun, new coffee experience. Order a coffee for a guaranteed good drink or try the fresh mint tea. The best part is, the fresh mint is growing all around the café just waiting to be picked! Not far away is D'n Hertog, a popular café which doesn't disappoint in the coffee department either. Have a delicious drink in the bustling city centre night or day, by itself or with lunch or dinner. Need to relax after a day of shopping? The calm, spacious CoffeeYou café and its friendly staff will put you right at ease. Enjoy the smell of their freshly made organic bread selection and try the iced coffee for the ultimate caffeinated treat!
Strictly good coffee in Strijp-S
Strijp-S is the epitome of creativity and culture, making it a great place to meet up with friends and get great coffee. If you're around Strijp-S during the FeelGood Market, nothing beats a quality coffee with a view of the Ketelplein at the Koffiehuisje. Take a pew outside this delightfully tiny café and enjoy the sights and sounds of the stalls. It may be better known for its ice cream, but Intelligentia ICE also serves delicious coffee at their stylish coffee bar. Take a seat, savour your drink and watch owner Bjorn Cocu create his famous ice cream flavours. A few doors down, the beautifully bright and airy Onder de Leidingstraat deli and shop offers fresh coffee at the counter. Goes great with their homemade lunches!
And now for something completely different...
Do you like surprises? If so, you might be interested to know that some of the best coffee in the city isn't in the most obvious of places. The Philips Stadion hosts PSV's football matches and the occasional concert, but did you know that Caffee 1913 is also located there and serves a fantastic cup of coffee? Sitting inside this sleek coffee shop is a unique experience ideal for football fans and coffee aficionados alike. Another unexpected delight is Bibliotheekcafé "de Verlichting" - that's right, the library coffee shop! Next time you check out a book, check out the simple yet delicious coffee. Now how about a hidden gem? De Stadsbranderij van Eindhoven, accessible down a little alley off Bergstraat, houses the BeanBrothers coffee initiative. Try their freshly ground coffee or, for the more daring, the cascara (coffee cherry tea) in the quaint building or in the little garden. Just keep your eyes peeled for the sign!
For franchise fans
The Netherlands has some great coffee house chains and if you've already tried them in other Dutch cities, you'll be pleased to hear that they also have stores in the Eindhoven city centre. Kaldi is the perfect shop to buy gifts for coffee-loving friends while enjoying a cup of coffee yourself. Douwe Egberts café and shop is another great place to stock up on coffee products while you get your caffeine fix. They also sell the "Lazy Noon", their version of the Mocha or Chococcino which is very popular elsewhere in Europe but not always easy to find in the Netherlands. The Eindhoven Coffeelovers branch is perfectly located in the Van Piere bookshop – because books and coffee is always an ideal combination! And if all else fails, the city boasts several Starbucks stores for an internationally-known coffee experience.
With all these exciting options in Eindhoven alone it shouldn't be any problem ensuring that the Netherlands remains one of the biggest coffee consumers worldwide.
Is your favourite place missing here? Let us know! Enjoy your Eindhoven coffee experience!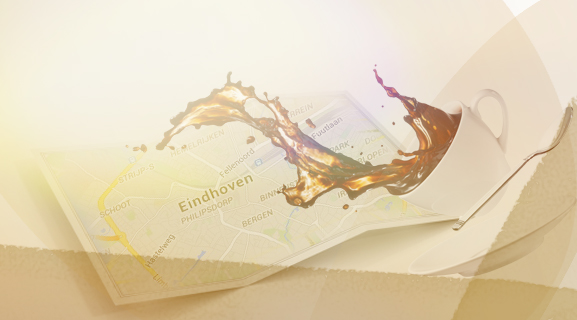 Comments