Join our team!
Local Life Eindhoven has a free position for an:
Enthusiastic Marketing/Communications Intern (CLOSED)
What you will learn:
We are continuously exploring different ways to enlarge our scope amongst the international audience and local businesses. The specific task description or research topic for the internship will be defined within this scope in close consultation with you, your school and Local Life Eindhoven.
We are a small company, so during the internship you will be able to work on a variety of tasks such as: getting in contact with different target groups, writing new (English) content (editor reviews, articles, event descriptions), using social media and other on- and offline marketing tools, developing new marketing tools, executing administrative tasks, distributing our Guide and more.
What we ask:
3rd or 4th year student in marketing, communications, tourism, leisure or a related discipline
Strong communication skills
Familiarity with the international audience
Good understanding of Dutch
Strong (English) writing skills
Based in or near Eindhoven
What we offer:
An opportunity for a full time internship (4-5 months, 3-5 days per week) at a young and growing company
The possibility to expand your professional network in Eindhoven extensively
A workplace at a unique and vibrant location, the Portiersloge on Strijp-S
Expenses for the role will be covered
About Local Life Eindhoven
Since 2010 Local Life Eindhoven informs newcomers in the city about everything Eindhoven has to offer in the fields of hotels, restaurants, bars, entertainment, shopping, services, culture, events and more. We publish this information on our off- and online media channels, such as website, app, social media and hardcopy Guide. These channels provide local businesses and organisations an opportunity to promote themselves amongst the international audience in Eindhoven.
Interested?
For more information about this internship opportunity or to apply contact Ilse van der Palen at ilse@eindhoven-life.com with a motivation letter and resumé.
Daarnaast is Local Life Eindhoven altijd op zoek naar goede
Freelance Sales Consultants (op commissie-basis)
Vanuit een groot enthousiasme voor de regio Eindhoven, de internationale doelgroep en onze producten benader je telefonisch bedrijven en organisaties in de regio, inventariseer je hun wensen en behoeften, informeer je over de mogelijkheden van Local Life Eindhoven en maak je bezoekafspraken voor onze city manager.
Je taken en verantwoordelijkheden
Als Freelance Sales Consultant voor Local Life Eindhoven bestaan je taken onder andere uit:
Signaleren van kansen en mogelijkheden in de markt
Opstellen van een prospect lijst
Genereren van leads door het benaderen van potentiële adverteerders
Adviseren van potentiële adverteerders over ons aanbod
Rapporteren over en correct overdragen van leads in ons CRM-systeem
Opbouwen en onderhouden van relaties met adverteerders
Intern meedenken over en meebouwen aan de groei van Local Life Eindhoven
Je profiel
Als Freelance Sales Consultant beschik je over:
Commercieel talent
Online marketing kennis
Enthousiasme en doorzettingsvermogen
Uitstekende communicatieve vaardigheden
Zelfstandigheid
Vloeiend Nederlands en Engels in woord en geschrift
Een inschrijving als zelfstandige / freelancer bij de KvK
Passie voor Eindhoven en de internationale doelgroep
Bij voorkeur een netwerk in het Eindhovens bedrijfsleven
Ons aanbod
Local Life Eindhoven biedt je een leuke functie met veel eigen inbreng. Na een interne training ga je aan de slag vanuit onze unieke werkplek op Strijp-S in Eindhoven. Je werkt op commissiebasis, het aantal uren en je werktijden zijn in overleg.
Over Local Life Eindhoven
Met een drukbezochte website, veelgebruikte Guide en handige smartphone app informeert Local Life Eindhoven internationale bezoekers over al het moois dat Eindhoven te bieden heeft. Local Life Eindhoven maakt deel uit van Local Life, dat als uitgever van diverse on- en offline media al meer dan 10 jaar in diverse internationale steden actief is. De combinatie van deze ervaring en onze eigen lokale kennis en enthousiasme zorgt ervoor dat Local Life Eindhoven hét platform is voor bedrijven en organisaties om de groeiende internationale doelgroep in Eindhoven te bereiken. We streven er naar onze positie in de stad te verstevigen en onze dienstverlening verder uit te breiden en daar kun jij aan bijdragen!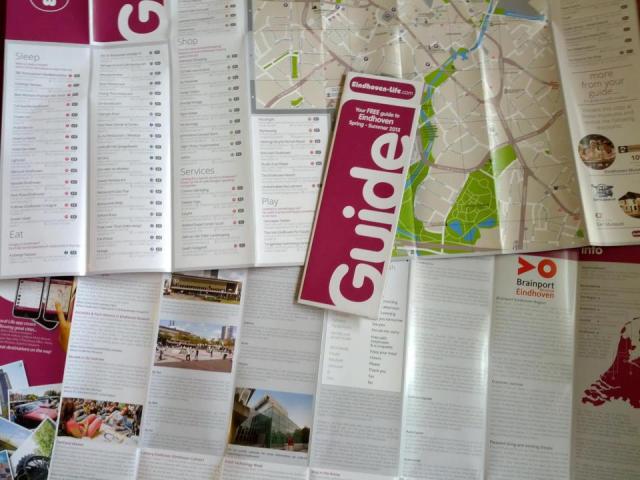 Enthousiast?
Spreekt bovenstaande je aan en herken je jezelf in het geschetste profiel? Stuur zo spoedig mogelijk je CV en motivatie naar ilse@eindhoven-life.com ter attentie van Ilse van der Palen. We komen graag met je in contact!
Comments