GLOW: Light, Art and Architecture combined
GLOW is a special event around Light in Art and Architecture. In this event artists use artificial light to change or enhance parts of our already beautiful city. Last year the festival attracted a record number of 520.000 visitors to Eindhoven. It's really one of the most interesting events in the city during the year and you will certainly not regret visiting this unique light festival!
GLOW 2016 takes place from November 12th - 19th and this years theme is 'City & Science'. Join the journey of the GLOW artists and explore their view on this. Accept the challenge to use your imagination and see what the works and installations of GLOW 2016 tell you.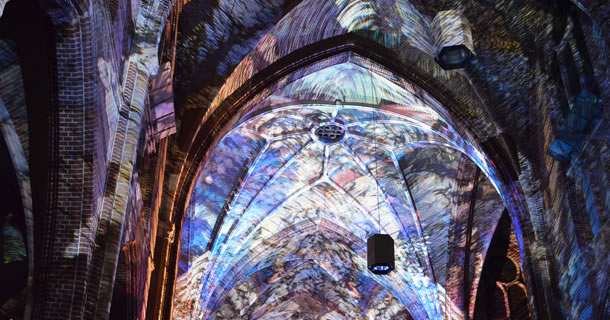 How does it work?
This information will be added closer to the start of GLOW.
Information from previous editions:
From Saturday Nov 8th until Sunday Nov 15th you can go check out GLOW in the Eindhoven city centre. 21 Main projects and 5 side projects are situated alongside a set out walking route through town. Start and finish of the route is the GLOW cafe, which you can find in a former factory on Bleekstraat, you can find the exact location on our online map in the GLOW event listing. There's no entrance fee or anything, you can walk the route for free by following the red lights. In the GLOW cafe you can buy a GLOW booklet with a description of the route, the projects, art works and installations and the artists who made them. There's also a little map available with the route and you can download the GLOW Eindhoven 2014 app to your smartphone.
In the Strijp-S area there's an extra extension of the festival, called GLOW NEXT, which is all about interactive, playful light art and innovative performances and installations. Just as the Strijp-S area it is the place to develop, research and experiment with new techniques, ideas and concepts. GLOW NEXT hosts 18 main projects and 1 GLOW special.
Since GLOW is all about light and most projects are situated outside it has to be dark to get the full experience. GLOW is 'on' Friday and Saturdays from 18.30-24.00 and Sunday-Thursday from 18.30-23.00. If you want to be able to see everything properly make sure to reserve enough time; you'll need at least 2,5 hours to do the main walk and 2 hours for GLOW NEXT to get to see everything. And expect large crowds of people... GLOW is very popular, so you won't be on your own. Weekend nights are most busy, later at night during the week gives the best chance on a not so busy walk.
Local Life Eindhoven recommends
On Friday night November 7th Local Life Eindhoven got a sneak preview of the 2014 edition of GLOW. We've seen most of the installations and were very excited about the mix of techniques, character and background of the projects. Also there's a lot of interactivity in many of the works, so there's much to discover. Here's what we think you should certainly not miss:
Ab Lib Créations - The Enchanted Cathedral & The Seasons (#18)
An impressive installation on St. Catherine's Church in the middle of town by French artists. Experience the world changing while the seasons come and go. This 6-minute performance feels like a whole night's dream.
Atsara - [M]ondes (#7)
Also by French artists this work intrigued us because of its quiet and sophisticated combination of light and movement. A combination of technology and nature shows what light can do and how it depends on reflection. Take some time to see the beauty of this installation.
Michael Suk - Statemachine (#1)
A well-known name at the GLOW-festival in Eindhoven; Michael Suk was present twice before. He now uses the facade of the DELA-building to show his interpretation of City in Motion. The vertically moving lightspots give this work a unique option to create continuously changing settings. Together with the sound it really seems like the building is alive.
City Loops - Storybox (#5)
This installation by an art, design and digital studio from New Zealand shows the city life of Eindhoven at different times of the day. The artists have been filming in the city recently and their images and video clips are combined on the container screens. It's extra special that the work is interactive; your own uploaded photos and videos tagged with #cityloops will be integrated in the work, so it's never the same this week!
The Macula - Stereo (#2)
Beautiful audio-visual installation by a Czech art group. Stand still and watch the projection, executed with videomapping, a special technique used by these artist. Several themes such as the architecture and the history of this church are included in the work.
GLOW Special: Casa Magica - Transcendent Flow
Another highlight is this show, performed every 15 minutes inside the church 'Augustijnenkerk'. It's a ticketed show, for which you can make reservations online, access is only €4,- and it's definitely worth it!
GLOW is always a literal 'highlight' of the year and we're pretty sure you won't be disappointed. Also check out the GLOW-listing in our event calendar for more details.
Comments