Gala Concert – "I love Puccini"
Mon 13th
May
19:00 - 21:00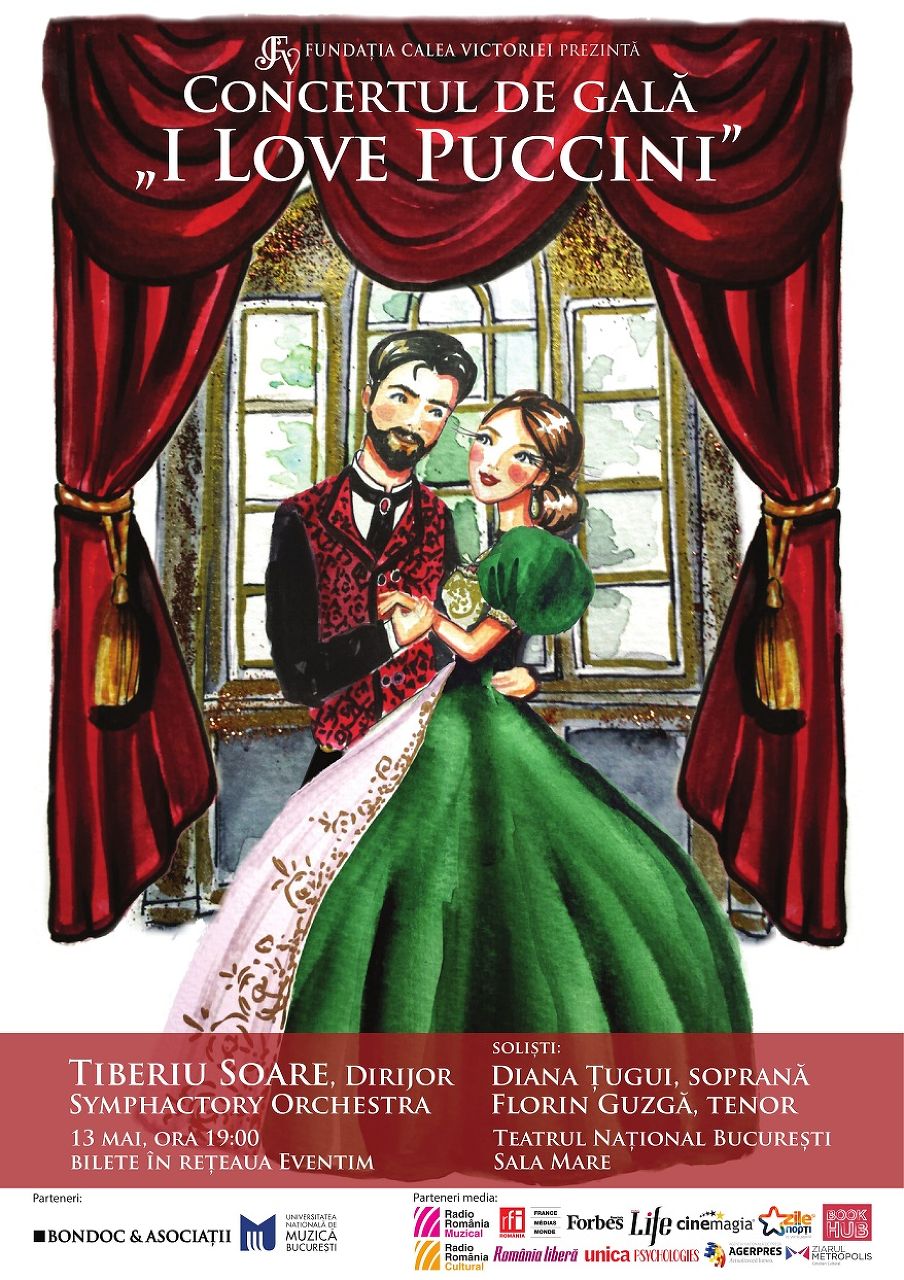 Fundația Calea Victoriei is inviting you to the Gala Concert "I love Puccini", which will take place on May 13th, 7.00 p. m., at the Grand Hall of the National Theatre of Bucharest.
Conductor Tiberiu Soare and Symphactory Orchestra will have two extraordinary opera singers as special guests: the soprano Diana Țugui and the tenor Florin Guzgă.
Adults and children alike are welcomed to enjoy the spectacular arias and duets, creation of Giacomo Puccini, the last great Italian opera composer, who gave us musical masterpieces of great beauty, originality and tenderness: La bohème, Tosca, Madama Butterfly, Turandot. On May 13th you are invited to get a taste of this remarkable composer's music.
At the end of the concert, the audience will have the opportunity to take pictures and talk to the artists. Also, Tiberiu Soare will sign autographs on his books: "Pentru ce mergem la operă?" and "Nouă povești muzicale".
"I love Puccini" Gala Concert is the forth event of the series "I Love Classics", launched by Fundația Calea Victoriei and dedicated to the great classical and opera music composers. The first three editions were dedicated to W. A. Mozart, G. Verdi și P. I. Ceaikovski.
Tickets for this concert can be purchased through the Eventim network: Vodafone, Orange, Germanos, Carrefour shops, Cărtureşti and Humanitas bookstores, OMV gas stations or online.
Tickets categories: I category – 150 ron, II Category – 125 ron, III Category– 95 ron
"I love Puccini" Gala Concert is organised with the support of: Bondoc și Asociații SCA Lawyers' Practice and the National Music University of Bucharest.
Media Partners: Radio România Muzical, Radio România Cultural, RFI România, România Liberă, Forbes România, Forbes Life, Unica, Psychologies, Cinemagia, Agerpres, Zile şi Nopţi, Bookhub, Ziarul Metropolis, Decât o Revistă.
Calea Victoriei Foundation is an independent cultural institute with more than eleven years experience in organising cultural events: concerts, courses on humanities topics and art workshops in Bucharest.