Festivals and Holidays in Amsterdam
As a cultural urban hub, Amsterdam seems to never lack in things to do, and its many annual festivals and holidays only contributes to the buzz of activity in The Netherlands' capital. So whether your interests lie in music, theatre, history, or fashion, Amsterdam has got you covered, year-round.
January
Amsterdam International Fashion Week
Fashion labels from across the world descend on Amsterdam for one week in January and one in July, when runway shows and parties take over the city.
February
Chinese New Year
Every year at the end of January or the start of February, many cultures across the world celebrate Lunar New Year, which is also known as Chinese New Year. In Amsterdam, the central Nieuwmarkt district hosts street performances (including a traditional dragon dance, of course!), as well as an Asian food market.
March
5 Days Off
For five days, Amsterdam venues Melkweg and Paradiso will host this festival of innovative electronic music and art.
Stille Omgang
The Silent Procession is a Catholic tradition that is intertwined with the history of Amsterdam. The legend goes that in 1345, a dying man regurgitated the holy host he received during his last rites. When thrown on the fire, the host miraculously did not burn. While the host itself disappeared over time, the tradition of the Silent Procession has been revived and many Catholics gather in the centre of Amsterdam for a nocturnal walk through the streets from midnight to 4am. The procession takes place on the Sunday closest to March 15.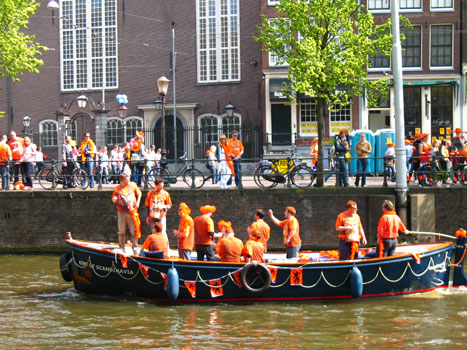 April
Queen's Day - 30 April
Known as Koninginnedag in Dutch, this nationwide celebration is by far the biggest party of the year, and certainly the most orange. People across the country flock to the streets dressed up in the national colour, to participate in parades, and attend free outdoor concerts and flea markets.
May
Remembrance & Liberation Day (4-5 May)
Remembering those who fell in World War II, and in all military operations, Remembrance Day ceremonies in Amsterdam are centred around Dam Square where two minuets of silence are held at 8pm. In contrast to the sombre mood on the 4th, the 5th is a joyous celebration of the liberation of the Netherlands from the German army in 1945. Live outdoor concerts from rock to classical music take place across the city.
National Windmill Day
Over 700 windmills are open to the public across the country, many for free.
June
Holland Festival: International Theatre, Music, and Dance
Holland's largest performance festival with theatre, music, dance, opera, visual arts, and film, in a variety of languages.
Vondelpark Open Air Theatre + July + August
A series of free outdoor concerts and performances on Friday, Saturdays, and Sundays throughout the summer. Takes place in Vondelpark's amphitheatre.
July
Julidans
Critically acclaimed international dance festival with a focus on modern and contemporary dance from around the world.
August
De Parade
One of Amsterdam's best-loved summer festivals, De Parade typically takes place at Martin Luther King Park and features theatre performances for the whole family.
Pride
As one of the LGBT capitals of the world, Amsterdam has a long history of supporting gay rights and throwing some of the best Pride parties in the world! Amsterdam's Pride celebrations take place for about one week around the first weekend of August and include concerts, the Drag Queen Olympics, as well as the world-famous canal parade.
The Grachtenfestival
A classical music festival taking place in unusual locations along Amsterdam's many canals.
The Uitmarkt
One of the most popular cultural events in the Netherlands, the Uitmarkt takes place on Amsterdam's Museumsplein, Leidseplein, and Vondelpark. Roughly 2000 artists gather in the city for over 450 performances of music, dance, and theatre for the entire family.
September
Dutch Theatre Festival
The season's top Dutch and Belgian productions take over Amsterdam's theatres for the Dutch Theatre Festival in September.
Open Monumentendag
Every second weekend of September, about 4000 historical buildings and monuments open their doors to the public free of charge for Open Monumentendag (aka European Heritage Days).
October
Amsterdam Dance Event
As one of the biggest dance music events in Europe, ADE draws many professionals to its conferences, as well as crowds of electronic music fans to its parties. Each ADE long weekend, both up-and-coming underground music stars as well as established DJs and musical legends fill the cities clubs for some truly memorable performances.
November
International Documentary Film Festival Amsterdam
Featuring a wide-reaching selection of international documentary films with hundreds of screenings and many special events.
Sinterklaas Parade
Not to be confused with Santa Claus, Sinterklaas is the Dutch interpretation of Saint Nicholas, a bearded old man dressed in red bishop's clothing, carrying a golden staff. He arrives in Amsterdam in the middle of November every year, parading through the city with his much loved, yet rather politically incorrect, black-face assistant Zwarte Pieten.
Cannabis Cup
Every year, High Times magazine organizes a competition and expo for weed purveyors in Amsterdam. Take part in process by purchasing a Judge's Pass, which entitles you to free entrance to all events including seminars, concerts, and the expo itself.
December
New Year's Eve
Parties and special events take place across Amsterdam for New Year's Eve, but the main public celebrations take place on the Museumsplein across the Rijksmuseum. Fireworks go off at midnight over the Amstel River.
Comments