Game on!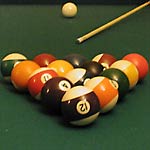 Be as it may, Bucharest has a bit of an unsavory reputation for hardcore hedonism, but don't come a-knockin' on our door to get the details. We at Bucharest Life like to keep it wholesome, so it's all on your own when it comes to escort services, erotic massage, strip clubs and the like. Call us a bunch of prudes; we just like to keep it to ourselves, Big-Pimpin'. All the same, we'll gladly point you in the direction of the city's plushest casinos, cinemas, sports clubs, theme parks and whatnot. Search our directory, take the family and keep it clean, Casanova.
See on Map
Looking for something specific?
Top rated entertainment in Bucharest
Circus
Old Town
Circus Circus
Read more »
Adventure
Centre
Adreneline & suspense as you solve puzzles in order to solve the greater mystery!
Read more »