Having Fun in Amsterdam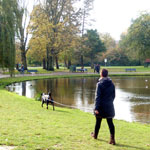 Rain or shine, Amsterdam's got no shortage of entertainment throughout its avenues and canals. Try a long stroll through sunny Vondelpark, a cruise through the city's maze of waterways, or a tour of one of the city's many historic sites. Don't forget that venturing off the beaten bath is always rewarded in popular cities like Amsterdam, and catching a live concert is one of the many ways it can be done. Have a look through our guide - you'll find the fun in Amsterdam's nearly always around the corner...
Looking for something specific?
See on Map
Top rated entertainment in Amsterdam