The Old Graveyard
If there is anywhere in Zakopane where you can feel the spirit of a hundred years ago, it is at the Old Graveyard. A certain Jan Peksa gave this land to the Church, and it is known as Peksowy Brzyszek, 'Peksa's brook' after the small stream that runs beside the cemetery. It's a very intimate place, encircled by a stone wall, and you will find the entrance just behind St.Clement's.
The Old Graveyard is plumed with birch trees, and a narrow path winds its way through the centre. The tombs themselves are very unusual. Many are crafted from gnarled blocks of wood. It is as if a magician has cast a spell on a host of tree stumps, and the sorry things has been transformed into enchanted folkloric sculptures.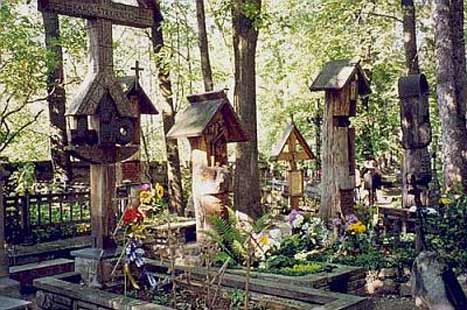 Many great figures from the arts are buried here, as well as numerous gorale heroes. However, you don't need to be aware of who's who to feel the magic of the place. The graveyard casts its spell as much through the craftsmanship of the memorials as through the associations with those who were laid to rest here.
All kinds of flourishes can be found - stout wooden crosses that are enlivened by florid carving, dreamy sculptures of Christ or the Virgin, bulbous clusters of rocks that turn out to be actual graves. The whole ensemble seems to have grown organically out of the ground, and thus it could not be further removed from the cold, rigid geometry of so many Western graveyards - it's a distinctly undepressing place. Of course, it is highly likely that the graveyard is inhabited by many ancient gnome dynasties, but the gnomes are modest fellows and one only sees them if one is lucky.
Amongst the most distinguished figures to be found here are Stanislaw Witkiewicz, the father of the Zakopane style. His minstrel friend, Sabala was also laid to rest here, as was the poet Kazimierz Tetmajer and the much-loved childrens' author Kornel Makuszynski. One can see that they are still held in great affection by the flowers and candles that repeatedly appear on their graves.
Witkacy himself was officially buried here in the winter of 1988. It was a scene that would not have been out of place in one of his own novels, and it quickly emerged that the authorities had buried the wrong man (the remote graveyard in the Ukrainian forest where he had initially been laid to rest had not been properly studied). However, Witkacy was certainly not lacking in mischievous qualities, and he would probably have found the event a triumphant success.
Comments