Vienna Tours: The Inside Track
Vienna Life used to scoff at the idea of going on a tour. After all, surely the sharp-witted traveller can use his own brain to get the best out of a place? Simply do a bit of background reading and off you go.... But a few years back, faraway in not so sunny Scotland, we found ourselves dragged on a tour. And yes, minutes later we were eating a huge portion of humble pie (in this case humble haggis).
The fact of the matter is that your fully-fledged guide knows his subject better than a beaver knows his dam. Besides brimming with brilliant anecdotes, said guide has probably lived in the city for the better part of his life. In short, he can show you the inside track.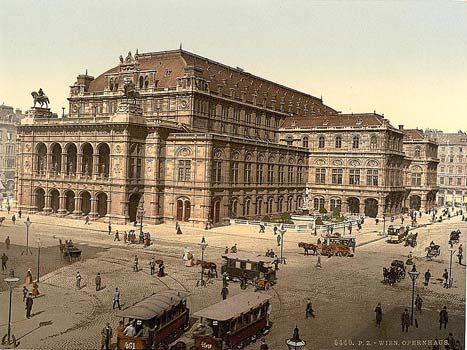 When it comes to a city like Vienna, there really is a lot of inside track to enjoy. We all know that this is the city of cafes, but did you hear about the Polish spy who helped beat the Turks from the gates of Vienna and then stole the Sultan's stash of coffee beans? And speaking of spies, how about Colonel Redl, the cross-dressing intelligence chief who nearly brought the empire to its knees by selling state secrets to the Russians?
As a famed turn of the century writer quipped: "The streets of Vienna are paved with culture, whilst in other cities they are paved with asphalt." By hooking up with a personal guide, those streets will come to life all all their giddy glory. For this is the city of Klimt, Freud, Mahler, Mozart, Strauss - and that's just the tip of the sachertorte.
Ever popular walking tours include Schonbrunn Palace and the sweep of Imperial Vienna. You can follow in the footsteps of the ill-starred Empress 'Sisi' - Austria's Princess Diana - and get to know her redoubtable husband Franz Joseph, the man with the mutton-chop whiskers. On a different note, fans of the classic movie 'The Third Man' can chase the ghost of Harry Lime in Vienna's post-war ruins. And when warm weather arrives, why not tour the city's wonderful wine taverns (heurigen). Tours can be tailored to your own interests, so if you're fascinated by Freud, or spellbound by Schubert, it's always worth inquiring in advance.

Vienna Tours & Tour Providers
If you're intrigued by the idea of discovering Vienna with a qualified guide, we'll be adding tried and tested tour operators to the list below. Enjoy Vienna!
Offers a range of tours to suit all interests.
Comments