Nova Rock Festival
It often seems like England gets all the fun when it comes to rock festivals. Druids, mud baths, eccentric farmers - it's an undeniably heady brew. But in recent times, Mitteleuropa has come up trumps with a trio of summer epics. Spearheading the Central European attack we've got Hungary and the Sziget Festival, Poland and Heineken Open'er, and last but not least, Austria with Nova Rock.
Mud-wrestling Glastonbury-style may not have become a staple of the fests just yet (maybe that's just because England has worse weather?) but the events have been drawing some of the biggest names in international rock and dance music.
Nova Rock kicked off in 2005, unleashing some ballbusting bands into the Burgenland countryside. Held on the Pannonia Fields near Nickelsdorf, the event draws revellers from across Europe. 2006 saw Massive Attack, Guns N' Roses, Placebo and Metallica leading the assault, whilst 2007 witnessed The Killers, Linkin Park, Marilyn Manson, The Hives and many more.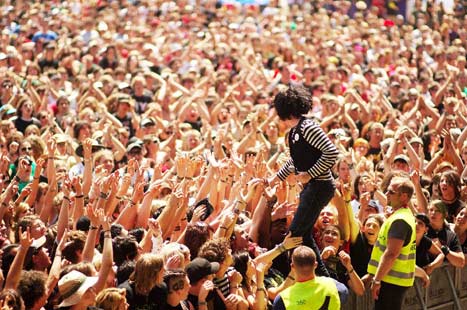 2008 Festival
Nova Rock 2008 returns on Thursday 13th June. Once again, the organisers have managed to bag some 24 carat acts, with The Verve, The Sex Pistols and Kid Rock amongst the headliners. They'll be joined by a battering ram of metalheads, including Judas Priest, Incubus and Motorhead. Other big-name bands at the festival are Rage Against The Machine, Porcupine Tree and The Beatsteaks.
Getting there
The venue sounds a tad on the obscure side (the Pannonia Fields in the rural backwater of Burgenland) but in fact, getting to the festival is a doddle. Nova Rock is held just outside the town of Nickelsdorf, itself a short train ride from Vienna. Hop on a train from Vienna's Sudbahnhof (South Station) and you'll be in Nickelsdorf in fifty minutes flat. You can find a full guide to train times right here.
Comments