Cheap Holidays In Vienna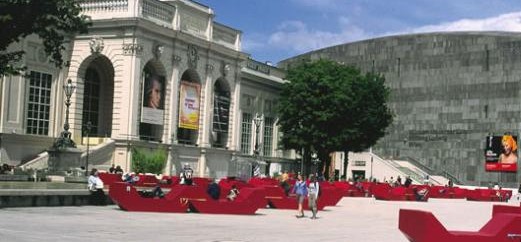 So you have not so much money to spend your time doing expensive trips and participate to expensive events. This guide will suit you, because it is perfect to show how Vienna can be the best city to do your holidays when you are not as rich as Uncle Scrooge. The capital can seem a little empty, but it means you have more of this beautiful city to yourself - from swimming in the Old Danube to exploring bars and cafes in the centre of the city, to enjoying the view from one of the first Ferris wheels ever built. let's now go to through the list:
Music festival at the Town Hall (Film-festival Rathaus): If you haven't visited the Town Hall yet, you are missing out. This is an annual summer music festival, featuring free screenings of concerts, gigs, operas, musicals, ballet, etc and an international smorgasbord of food and drink. It's always full of revellers and has a great vibe. Meet your friends here and enjoy a balmy evening in beautiful park-like surrounds, in the heart of Vienna's historical first district.
Open-Air Cinema: Kino Unter Sternen at Karlsplatz is free entry and in a glorious setting in front of Karlskirche. The programme concentrates on Austrian films, with the focus this year on documentaries. Even more fun is Volxkino, an open air cinema that sets up in parks and spaces around the city. The focus is on prize-winning films from around the world. The films for both festivals are in the original language with German or English subtitles - check out their websites for more details.
The Danube Island: An extremely popular destination in the summertime, the island is 21km long and in close proximity to the heart of Vienna. You can swim, boat, cycle, skate, and play beach volleyball in this recreational area with bars, restaurants and nightclubs. Hot day? Get down to the river. This is where you'll find everyone after work and all weekend.
The MuseumsQuartier describes itself as an 'urban living space'. It's a cultural complex full of outdoor cafes, bars and restaurants. "It's a great, open space with a lively atmosphere", says Clara from Wombats Hostel Vienna. "We often recommend it to our guests as somewhere to meet other young people and tourists." It is also an art space with nine permanent museums and exhibition and event halls, located in Vienna's trendy 7th district.
Super hot day? Why not do as the locals do and cool off at a public open-air swimming pool. There are plenty to choose from in Vienna and many have wellness areas and saunas attached. Prices for swimming start from €5. For a list, see: www.wien.info/en/vienna-for/sports/swimming-pools.
Grinzing: Catch tram 38 to the last stop and enjoy a walk up to and around the local Viennese wine taverns - or Heurige. Climb to the top of Kahlenberg for a gorgeous view back to the city. Take a picnic hamper with you or stop in at one of the Heurige and sample from the local food and drinks menu.
The Wurstelprater: Vienna's oldest amusement park sits in the corner of the Prater, a large park in Vienna's second district. The ferris wheel dominates the skyline in this part of the city. Entry to the amusement park is free and you just pay for rides. A heaven for young people, the park contains the usual merry-go-round, ghost train and dodgem cars to the more extreme, and very aptly named, Ejection Seat, which flings willing participants over 90 metres into the air. Take your friends. Have a ball. Eat light.
Zentralfriedhof Cemetery: For something more sombre and a bit different, why not take tram 6 to the outer district of Simmering and visit Vienna's most famous cemetery and one of the largest in the world (at 2.5 million square metres and with 330,000 graves). Well worth a day trip, and you can pay your respects to the likes of Beethoven, Schubert, Brahms, Strauss and more.
Comments